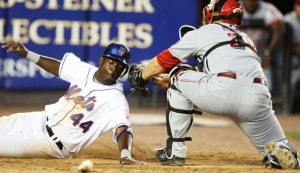 Lastings Milledge, the 22-year-old Mets outfielder who has been described by the New York sports media as everything from a "timebomb" to "clueless," showed no sign of being either of those things in his first game back from injury Thursday night against the Cincinnati Reds.
Despite a number of high-profile missteps during his first, abbreviated stay in the majors—and persistent hostility from reporters—Milledge continues to show that few young players in the game possess his talent.
"I've just got to play my game," Milledge said at his locker after a 1-for-4 performance Thursday night, highlighted by a race home from first base on a single by Ruben Gotay, which proved to be the winning run. "As long as I perform, the accolades will come along, too."
Milledge completed his first weekend back in New York with a flourish. He homered Friday, drove in the winning run on Saturday, and slammed a two-run double in Sunday's victory.
On the field, Milledge has done nothing but perform since being drafted with the 12th pick of the first round by the Mets in the 2003 draft. He hit .337 with 13 home runs in 261 at bats for Class-A Capital City in 2004 as an 19-year-old, then followed that line with a .302 average at high-A St. Lucie and .337 mark with a .487 slugging percentage at AA Binghamton. These numbers are impressive in any context; to put them up while Milledge was young for each level, and in pitchers' parks, makes them even more remarkable.
Then, in 2006, Milledge got even better, managing a .277 batting average, .388 on-base percentage, and a .440 slugging percentage playing for AAA Norfolk, in a park which ranked among the toughest in all of baseball for hitters.
To put that season in perspective, Milledge's numbers were decisively better than those of Yankee deity Derek Jeter at the same age.
"He's an excellent prospect," said Toby Hyde, author since 2004 of a comprehensive daily rundown of the Mets' minor league system. "I think the chances of him being a major league average player or better are tremendously high—and he has a good chance to be an all star or superstar. He can play any outfield spot, he runs well, he's shown doubles power, and he's only 22. People forget that, because he's been a part of the Mets fans' consciousness for such a long time. He's younger than some players in [single-A] St. Lucie. He's in the big leagues–and he belongs there."
However, that was far from the consensus opinion after his call up to the big leagues at the end of May 2006. Milledge's play lived up to his billing early on. He threw out a runner at third with a laser from right field in just his second game. And several days later, he tied a game in the tenth inning with his first major league home run on June 4.
But even as he excelled with bat and glove, his conduct raised hackles, most notably when he followed his game-tying home run by high-fiving some fans on his way out to right field the following inning. In a game which values understated professionalism over nearly anything, it rubbed some players, and manager Willie Randolph, the wrong way.
Later, Milledge—who was wearing his hair in braids at the time, and had briefly played wearing a large cross before the manager made him remove it—showed up late for a game, arriving just 70 minutes before first pitch. That earned him another talking-to from Randolph, and he hasn't been tardy since.
Uneven play, including a forgettable series in Boston in which he had trouble navigating Fenway's Green Monster, landed him back in the minor leagues by August, and kept him off of the post-season roster.
By then, he had become a frequent punching bag for reporters and columnists, who floated his name in nearly every trade rumor, insisted that he'd never become a competent major league player, and urged the Mets to cut bait.
A frequent refrain has been to assert that Milledge cannot get along with his teammates after a Mets veteran, identified in published reports as the notably outspoken Billy Wagner, hung a sign in Milledge's locker reading, "Know Your Place, Rook" in September.
The largely white, middle-aged core of reporters covering Milledge didn't seem inclined to grant him a fresh start when he reported to camp this season. He had added an estimated 10-15 pounds of muscle this offseason, and showed for camp a day earlier than the mandatory reporting date.