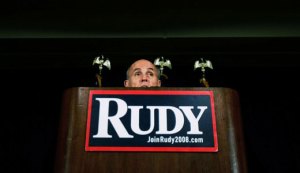 It seems only a matter of time before the 2008 G.O.P. presidential field is minus its onetime presumptive front-runner, Arizona Senator John McCain.
It was a colossally bad week, with the campaign's manager, chief strategist and communications team hitting the bricks as its once-flush fund-raising accounts veered into the red.
All of which feeds the unlikeliest story line of this weirdly fragmented early campaign season: Rudy Giuliani, G.O.P. front-runner.
Earlier this month, Mr. Giuliani eked out the top spot in the inanely titled "money primary," with $17 million raised in the second quarter. And the twice-divorced enforcer of Roe v. Wade and advocate for gay tolerance still tops most national polls among likely G.O.P. voters.
But those numbers alone won't guarantee a run of primary victories, let alone a legitimate shot at the presidency.
Mr. Giuliani has won both the polls and the money sweepstakes by default.
The latest poll from the Associated Press shows "none of the above" leading a list of G.O.P. candidates, followed by Rudy, just ahead of the unannounced candidacy of Fred Thompson.
And as far as money goes, the man has spent much of the past six years out of office collecting humongous fees from corporate affiliations and speaking gigs. It would be shocking if a management guru with Mr. Giuliani's connections weren't pulling down a healthy eight-figure sum per quarter.
Polling aside, Mr. Giuliani still sports huge vulnerabilities in a G.O.P. primary season where the movement-style true believers hold sway: In addition to the abortion and gay-rights trespasses, he's proudly bipartisan and suspiciously soft on immigration, the issue that's badly damaged the party leadership's credibility with its base.
Even Giuliani's storied September 11 bona fides—the big symbolic appeal that the campaign hopes can paper over all its far weaker selling points—seem shaky these days. He recently came under fire for fobbing off his seat on the Iraq Study Group for the sake of—yes—a series of previously scheduled lucrative speaking engagements. And the city's Uniformed Fire Officers Association, which has locked horns with Mr. Giuliani over everything from wages and contracts to the mayor's laggard oversight of health hazards for Ground Zero rescue workers, last week released a damaging DVD that showed New York firefighters laying into him for failing to upgrade emergency communications equipment and for continuing to site key emergency and counterterrorism operations at the World Trade Center long after terrorists first attacked the Twin Towers, in 1993.
But money and 9/11 symbolism aside, Mr. Giuliani's candidacy will likely serve as a litmus test of something else: the continuing drawing power of the culture wars for the G.O.P. faithful.
Mitt Romney is awkwardly seeking to close the market on the culture-war vote, but that ploy has only further publicized the former Massachusetts governor's iffy relationship with principle and consistency, given his prior support for abortion rights and gay marriage. The effort is reminiscent of Senator McCain's recent desperate maneuverings to appeal to the Christian right, the very force that did him in on his 2000 primary run.