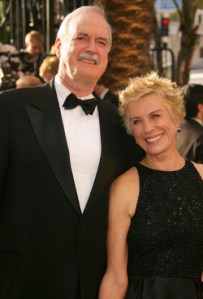 It isn't often these days that a deity like John Cleese buys a New York apartment for under $1.5 million.
After all, it's been a decadent month: The hotelier Robert Burns sold his Fifth Avenue co-op for $29 million; the Chinese television personality Yue-Sai Kan sold her Sutton Square townhouse for $22.25 million; the ex-AOL exec Myer Berlow unloaded an East 61st Street townhouse (with library shelving made from one walnut tree) for $14.67 million.
So it's all the more glorious that Mr. Cleese, whose exquisite dead-parrot Monty Python sketch alone justifies his having a tree-coated triplex, would buy a co-op at 196 East 75th Street for the very egalitarian sum of $1.4 million. The city deed also lists well-named wife Alyce Faye Eichelberger Cleese.
Their sellers are Michael Lascher, an attorney, and his wife Nancy Harrison Lascher. According to the listing with Samantha Kleier Forbes of GumleyHaftKleier, Mr. Cleese will have open city views facing east and west, plus a new gym in the building for pumping up his 67-year-old pectorals.
"They're good people, and it worked out really nicely," said the Cleeses' broker, David Cooper of Prudential Douglas Elliman. When asked if they'd be living full-time in the apartment, he said, "For them, it's more of a pied-à-terre."
Maybe Mr. Cleese isn't so egalitarian after all? According to the Los Angeles Times, he also has a 16-acre equestrian ranch in Santa Barbara, Calif., which includes a 16,000-square-foot barn with 25 stalls and a two-bedroom apartment, plus a three-bedroom Mediterranean-style house. It's called Stalloreggi ("the King's Stables"), and it was listed this summer for the unfunny sum of $28 million.
Where will the horses go after the farm is sold? Pets are allowed in his new co-op.