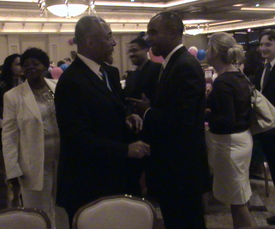 Bill Thomson and Adolfo Carrion had a friendly chat during last night's dinner for the Bronx Democratic County Organization at the Marina Del Rey.
At one point, I and two other reporters ran into Denny Farrell, who was hanging out with his daughter. He cheerily noted that earlier in the day he'd gotten another pro-congestion price mailing, making it three so far. "It must be good to be a billionaire," he said. (The mayor, about whom Farrell was referring, has denied that he's providing any direct funding for the effort.) Then, Farrell rhetorically asked how many phone calls he's gotten, smiled, and made a big zero with his fingers.
In introducing Christine Quinn, Assemblyman Jose Rivera, the county leader, said, "If I decide to go back to the City Council in '09, I want her to be my speaker again."
Assemblyman Jeff Dinowitz told me he won't be in town when Sheldon Silver convenes his conference meeting in Manhattan on July 16.
Non-Bronx officials who made their way to the dinner include David Weprin, Melinda Katz and Simcha Felder – all comptroller candidates in 2009, Assemblyman Michael Gianaris, and state Comptroller Tom DiNapoli. Also floating around the room were former City Council Speaker Gifford Miller (no tie!) and Democratic Mayoral candidate Fernando Ferrer.
And state Senator Efrain Gonzalez, who was indicted last year for misusing public money, was at the dinner before I arrived and stayed after I left, seemingly having a good time.