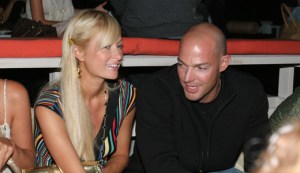 On July 6, wrap-dress scion Alex Von Furstenberg hosted a dinner party at the Polaroid Beach House in Malibu, California. Among those nibbling on lamb and lobster were Band-Aid heiress Casey Johnson, British "it-girl" Lady Victoria Hervey (can one be an "it-girl" if one is also a Lady?), some actors, including Entourage's Jeremy Piven, and those crazy chicks Nicky Hilton and her older sister Paris.
Fresh off her stretch in the clink after a probation violation, the senior Hilton has rented a house, like, two doors down from the Polaroid chateau. On this night she wore a modest below-the-knee, rainbow-striped dress and, according to a source, only drank Evian water. (Of course, it also could've been Svedka vodka—also a sponsor of the evening.)
Things did heat up a bit, however, when an elderly neighbor named Michael Silverman, in his 80's, arrived, armed with a walker and an opening line. "He introduced himself to Paris and said he had a dream about her," the witness said. "He said he dreamt he was hooking up with her and the cops came in and busted him, and he said he told the cops 'I'm just following the Bible! It says to love thy neighbor.'"
Either Ms. Hilton hasn't been reading her Bible that closely, or failed to share the senior's sense of humor. "She was really polite and smiled," and left around midnight, the source said.
Other revelers stayed till 3 a.m., Mr. Von Furstenberg taking a page from Matthew McConaughey's playbook and joining the band on a pair of conga drums.