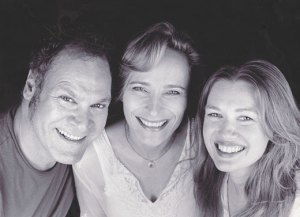 "The entire play, A Midsummer Night's Dream, is set outside, so just to actually be in the elements, to have the air and the raccoons or, you know, whatever happens to wander up onstage … It just adds that much more to the magic," cooed Mireille Enos, who will play the petite, feisty Hermia in Shakespeare's expertly crafted love square on the Delacorte Theater in Central Park when it opens next week.
In the ever-popular 16th-century rom-com, Ms. Enos' Hermia runs away into a fairy forest to elope with her lover and to escape her father's wishes that she marry the ex-boyfriend of her jealous best friend, Helena. Once the mischievious Puck gets involved, hilarity ensues. "Helena [played by Martha Plimpton] talks on and on at the top of the play about how every gesture that Hermia makes is perfection, and how her eyes are perfect and her smile is perfect," explained the freckle-faced redhead. "But what's revealed about her later is that she's also a fighter. She's tough, too. So getting to play that kind of range within a comedy is fun."
You might recognize Ms. Enos, 31, from this season of HBO's quasi-Mormon drama Big Love, where she is currently being courted by Joey Henrickson, Bill's brother, as a second wife. She also earned a Tony nomination in 2005 for her role as Honey in Edward Albee's Who's Afraid of Virginia Woolf. "I'm not a midget, but I'm five-two. To play out in the open where the height thing is put right out there, it'll be interesting." She may be tiny, but from what we've seen, she's also like her Midsummer character: a force.
Shakespeare in the Park at the Delacorte Theater in Central Park starting August 7, performances Tuesday through Sundays at 8 p.m.