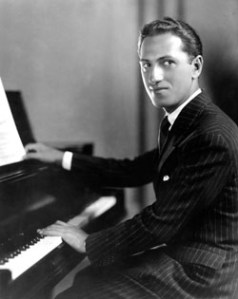 THE HOUSE THAT GEORGE BUILT: WITH A LITTLE HELP FROM IRVING, COLE, AND A CREW OF ABOUT FIFTY
By Wilfrid Sheed
Random House, 335 pages, $29.95
"What comes first, the words or the music?" Songwriters used to get asked this so often, apparently, that the question was once a cliché. Most dreaded it—but not Sammy Cahn. He prepared an answer that he rattled off "Time After Time," to borrow the title of one of his greatest songs: What came first was neither the melody nor the lyrics but the phone call, usually from a producer needing a title song for a film. If Sammy could have somehow paid himself a royalty on that one-liner, he could have died an even richer man.
Perhaps in response to the hardscrabble life of their immigrant parents, the songwriters of Cahn's generation wanted to present themselves not as artists but as hardworking professionals. How could they have known that the music-makers of a later generation would hold it against them? Singer-songwriters of the 60's were expected to express what they were feeling, not just hack out what some check-signing mega-mogul paid them to say in song. (Still, when Bob Dylan remarked that the composers of Tin Pan Alley had songwriting "down to a science," he meant no disrespect.)
We can thank Wilfred Sheed's The House That George Built for showing us that the writers of the Great American Songbook were not merely the musical equivalent of tailors—following the dollar signs and composing accordingly—but wrote from what was in their souls, perhaps even more than the writers of other American songbooks such as the blues, country music and rock 'n' roll.
Mr. Sheed is writing primarily about composers (only one lyricist, the incomparable Johnny Mercer, rates his own chapter), yet he steers clear of technical terminology. He includes a fair amount of background, but this is hardly a biographical reference source. The service that Mr. Sheed provides could best be described as "interpretation"—he takes the contextual information and the songs themselves and shows how they relate to each other, stressing the factoids that he finds useful and ignoring those he does not, the same way a great jazz soloist will elaborate on his favorite parts of a tune.
He shows us how every note ever lovingly mass-produced by these celebrated songwriters was a reflection on who they were and where they came from, from the Lower East Side of Irving Berlin and George Gershwin to the Hoosier harmonies of Cole Porter and Hoagy Carmichael. Even in the transition into more "sophisticated" theatrical productions in the postwar era, when songs were expected to further a coherent narrative, composers like Richard Rodgers were writing tunes and telling stories as different from each other as they were from those of Mr. Dylan.
A brilliant writer, Mr. Sheed is a storyteller, not a scholar, and it's clear that some of his more colorful statements are to be taken for their entertainment value—these are not academic observations to be footnoted and cross-referenced. The occasional goof—as when Mr. Sheed confuses "You Ought to Be in Pictures" with "If I Had a Talking Picture of You," or Wingy Manone with Ziggy Elman—should trouble no one. I do wish that he hadn't brought up the old saw that Jimmy McHugh bought (meaning "stole") the melody to "I Can't Give You Anything but Love" from Fats Waller, especially since Mr. Sheed tells us that he doesn't believe it himself; I know of only one documented case of theft involving Mr. McHugh and a black songwriter, and that's when the composers of "For Sentimental Reasons" lifted wholesale the bridge to Mr. McHugh's "A Lovely Way to Spend an Evening." Also, I don't think many Duke Ellington fans would agree with Mr. Sheed's characterization of manager-publisher Irving Mills as an "unsung songwriters' helper." Mills is certainly unsung, but only because (as his employee Mitchell Parish told me) he never wrote a single note of music or word of lyric.
Overall, The House That George Built more than succeeds in its goal to be both as lively and as substantial as the songs Mr. Sheed describes. He's particularly strong when talking of his own experience, like sitting in a men's room in an adjacent stall to a chap "who whistled while he whatever," or describing Los Angeles as late as 1950 as "a cow town," or recounting what it was like to go to the movies in the Depression, as musical followed cartoon followed newsreel.
Mr. Sheed has given those of us who love this music an incomparable gift, a gift he bestows on the departed songwriters themselves: He has given them back their souls.
Will Friedwald is the jazz and cabaret critic for The New York Sun.