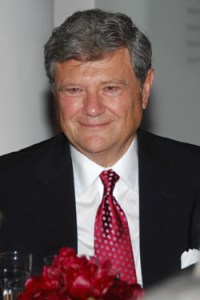 Jerry Speyer rebuilt Rockefeller Plaza, and now he's redesigning the commercial market.
With average rents in Class A space swelling to more than $75 per foot in Manhattan office towers, the city's landlords have come up with a new way to keep more money flowing in from tenants: increasing loss factor.
The famously controversial concept, which is a figure that bridges the gap between usable square feet and rentable square feet, has been steady at 25 percent since the days of the dot-com boom. But over the past year, that percentage has risen citywide to 27 percent, according to conversations with landlords and brokers.
Who's responsible for the shift? The two biggest landlords in the city, the Speyers and the real estate investment trust SL Green, said brokers and landlords.
Last spring, Tishman Speyer made the change portfolio-wide and SL Green soon followed.
What exactly is loss factor? It's essentially a directive from landlords demanding that tenants pay for common space shared with other tenants, like lobbies and elevators (as opposed to paying only for the space where you can plop a desk down). The increase, therefore, from 25 percent to 27 percent isn't indicative of more lobbies and more elevators in its buildings. It's a phantom hike that is, as everyone describes, "driven" by the market.
"Tishman Speyer started doing it last year; then we did it mostly last year, too," said Christopher Gulden, the vice president of leasing at SL Green. "It's just a market-driven item. Now, it's a universal standard."
But what's "universal" and "market-driven" to landlords can cause panic among brokers.
"People's gut reaction at first was, 'Wow,'" said CB Richard Ellis broker Paul Amrich. "In the beginning there was a resistance. But as the market tightened last year, buildings were getting it and achieving it. It proved that it made sense."
Mr. Amrich, who markets 510 Madison Avenue and 1330 Avenue of the Americas for Macklowe Properties, said both towers now have a loss factor at 27 percent.
The difference in yearly rents doesn't look that seismic, but over the period of a lease it means serious money.
Take, for instance, SL Green's available space at its refurbished 100 Park Avenue, which is available at a 27 percent loss. Floors 10 through 12, which total roughly 117,000 square feet, are available for rent at $90 per foot. At a 25 percent loss factor, the yearly rent is a little more than $10.24 million. At a 27 percent loss factor, that rent bumps to $10.53 million. In a 10-year-lease, that's nearly three extra million.