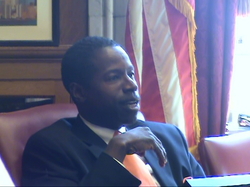 State Senate Democratic Leader Malcolm Smith said he and his members would oppose Michael Bloomberg's congestion pricing plan if it comes to the floor without the support of the Assembly Democrats.
Smith, speaking to reporters in his third floor office in the capitol, said his conference had issues with enforcement of the congestion charge, the transportation improvement projects that accompany the plan, and the actual boundaries of the zone.
Then he said won't put his members "on the line" for a one-house bill.
When asked if he would vote against or abstain from voting if the bill does come up for a vote, Smith noted that there are not abstentions because "the rules of our house are a little antiquated." That's something Smith said he'd like to change in the future.
Why?
Because, as he told one reporter after the press conference, sometimes you're just "not there yet" on an issue.