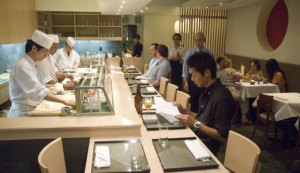 Next to me at the sushi bar sat a woman from Atlanta visiting her grown-up son. "I've been in New York for just five days," she said, "and I've eaten here every night."
Wasn't the chef, Sotohiro Kosugi, recently working in Atlanta (where, a decade ago, he was named one of the country's best new chefs by Food & Wine)?
"I followed Soto here. In Atlanta they didn't understand food like this. People wanted tuna rolls! That's not what he's about."
I was eating tuna, not a roll, but a puck of finely chopped toro spread with a layer of avocado topped with diced chives, fried ginger threads and a dollop of caviar, served on a shallow pool of sesame ponzu sauce. It was so good I couldn't resist ordering it again on other visits.
Each night Mr. Kosugi, a slender, bespectacled figure with a gaunt, boyish face and a shock of black hair under a white cap, works behind the bar near the entrance. He seems to be lost in his own world, deep in concentration when, for example, he painstakingly arranges petals of live fluke from Long Island in a circle on a large white plate and sprinkles them with sea salt, lime and yuzu zest (whatever you do, don't miss this dish). He folds over slices of salmon sashimi and dots each slice with cilantro and scallion, and he bathes a silvery carpaccio of red-tipped Japanese jack fish in truffle-ginger soy.
Every time the door opens, a wave of greetings comes from customers who seem to know Mr. Kosugi. A third-generation sushi chef, he established a national reputation with the unusual dishes he served at his restaurant in Atlanta, which was tucked away in a strip mall. His new place is an elegant outpost on a grungy block of tattoo parlors and head shops on Sixth Avenue near Washington Place, an area surely earmarked for change now that a new apartment building is going up across the street.
No sign marks the outside of the restaurant, which is all white, with square portholes. It was designed by the architect Hiro Tsuruta, who has a talent for transforming small, bleak spaces into chic restaurants, such as ChikaLicious and Momofuku Noodle Bar. Soto is no exception. The white room has a blond maple-wood sushi bar, a slate floor and a row of tables set along a gray banquette. The white wall above them is bare but for a large indented red circle a third of the way along.
The woman from Atlanta had brought Soto a lucky bamboo plant. It sat by the end of the counter, its feathery green leaves a baroque presence in the otherwise minimalist setting.
"I bet it's not there next time we come," whispered my companion. "I don't think the architect would approve."
The menu is divided into three parts, with nigiri sushi, hot dishes and a selection of around a dozen daily specials from the sushi bar. The latter are amazing creations that showcase Mr. Kosugi's unique style: Uni is wrapped in paper-thin slices of sashimi squid instead of the usual nori and topped with a quail egg; a wonderful, complex salad is made of slivered geoduck clam, smoked oysters, Japanese cucumber, spicy radish sprouts and micro arugula.
I watched Mr. Kosugi cut a lime in half and with a flick of the wrist remove the inside, which he set down like a little hat. He piled the lime shell with thin slices of surf clam and ginger shoots marinated in a sweet miso mustard sauce and served it with the lime hat on the side. "Whatever that is, I'd like one too," I said to the waiter, a gentle, professorial Japanese man who had a shaved head and wore a tie.