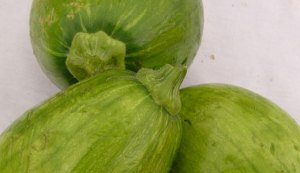 After my recent failure in attempting to introduce raw root vegetables to my grill, I decided to head back toward slightly more well-trod terrain. Squash is reliably grill-friendly and in abundance all summer long. Avocado squash were new to me, though, so I thought I'd see how they work on an open flame.
The Asian vegetable is aptly named—it's grass-green and plump, and shaped almost exactly like its namesake. Its flesh is yellowish green, or greenish yellow, but either way it has more color than your average summer squash. The flavor is not dramatically different, but it is pleasantly nutty.
Preparation, as usual, is minimal: Slice the squash top to bottom, very thinly—say, the thickness of the Sunday New York Times Magazine when it's not full of real estate ads—and brush both sides with olive oil. Then toss them on the grill and sprinkle an extremely small amount of ground cumin over them, like pixie dust, as they cook. Pull them off when they're just starting to brown in the center and are even a little crispy at the edges.
The squash is rich on its own, but it's even better with coarse sea salt, which provides a nice texture. And even without the spice, it works well as a side dish for heavier meats. Just don't walk away while you're cooking.
Avocado squash, $2 per pound at Yuno's Farm stand, Union Square Greenmarket, Mondays and Fridays, 8 a.m. to 4 p.m.