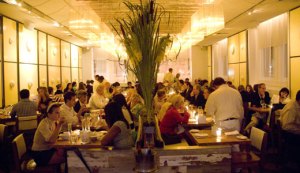 It's a novel idea: a restaurant that not only changes the menu with each of the four seasons, but its entire appearance as well. The designers at AvroKO and owner Michael Stillman, the team behind Quality Meats, have devised a dining room that can transform its look in less time than it takes to dust off your winter wardrobe.
To add to the quirkiness, they've used Captain James Cook's travels as a guide; his maps decorate the menu, and various regions he visited will set the tone for different times of the year. (Captain Cook, you may remember, was himself an innovator at the table, adding sauerkraut to his sailors' basic diet of salt pork and biscuits as a deterrent for scurvy.)
Maybe sauerkraut will make an appearance by December. For summer, though, the restaurant is basking on the Galápagos Islands. The dining room, which was formerly occupied by the Park Avenue Café, now looks sun-bleached, with whitewashed wood on the ceiling and doors, plaster casts of tortoise shells on yellow lacquered panels, and a shimmering wall hung with white wine bottles. Bull rushes and long grasses separate two rows of white leather banquettes down the middle of the room. The sommelier is a young woman in jeans. She says "Cheers!" as she pours out the wine, as if you're all old friends on vacation.
A waiter brings a small wooden box filled with green plastic grass. Inside are three wooden sticks, each spearing a cube of yellow or pink watermelon topped with a white dot of labne yogurt. It's a sight worthy of a Futurist dinner; you feel you should close your eyes and stroke the grass while you eat the watermelon. Marinetti would have been impressed.
Chef Craig Koketsu, who is also executive chef at Quality Meats, seems to be more at home at Park Avenue Summer than he was at the steak house when I reviewed it last summer. Here his menu, largely made up of seafood dishes, is inspired. Tastes and textures contrast in original and unexpected ways. Monkfish is encased in a powdered red lentil crust, à la milanaise, and served on a bed of spaghetti squash with peppercorn brown butter. A soft shell crab is fried in an ethereal batter and white soy sauce, and comes with strawberries, avocado, passion fruit and jicama. Fluke sashimi are topped with crispy slivers of fried sunchoke and garnished with dots of puréed plum and cilantro paste. A salad of green and yellow string beans is tossed in a vinaigrette with pieces of apricot, almonds and mint. The only loser is the rubbery Caprese ravioli garnished with a soggy salad.
Barbecued cherries and farro come with the marvelous, buttery lamb chops. John Dory is served with slices of summer truffle and a brioche-crusted poached egg that melts into the truffle sauce. There are simpler dishes as well. A lobster salad with avocado and fennel is tossed in an orange-lemon vinaigrette and strewn with pea shoots. Piled-up, sweet, grilled langoustines are served plain in their shells with pieces of lemon, a perfect dish for the beach.
Following Mr. Koketsu's mantra of local and seasonal, there's a list of specials that all contain corn (sometimes alongside more far-flung ingredients). A sauce made of corn milk tops the rich and creamy Kumamoto oysters lined up on a bed of salt in a rectangular wooden box. Corn succotash accompanies an excellent veal chop, which goes nicely with a side order of okra and sriracha-kalamansi, a fiery, citrus-flavored sauce from Thailand.
Richard Leach (who was formerly at Park Avenue Café on these premises) is one of the country's greatest pastry chefs. His desserts, each more eye-catching than the last, feature a myriad of components. His raspberries with goat-cheese mousse looks like a cross between Picasso's cubist Woman With a Hat and an Arcimboldo still life. His fruit sorbets are brilliant, tasting more intense than the fruit itself. Peach sorbet accompanies roast peaches with a crisp corn pudding and a jiggly panna cotta. Cherry sorbet complements toasted rice pudding with fresh cherries, and blueberry ice cream comes with the lemon semolina cake and sautéed blueberries. Mr. Leach is also responsible for the house-made rolls, one variety made of polenta studded with corn, the other with rosemary, roasted pepper and cheddar cheese.
Park Avenue Summer is very expensive. Prices between $24 and $45 for a main course at dinner and $17 for a glass of Cloudy Bay Sauvignon Blanc can feel at odds with the laid-back atmosphere. One night when no sommelier was in evidence, we felt like drinking a rosé and ordered a Lynmar vin gris from the Russian River Valley. "It's American, with tastes of wild strawberry," our cheerful waiter told us. "If you don't like it, I'll drink it!"
Come September, the restaurant will get another makeover, switching out the panels with the tropical tortoise shells. What's next—deer antlers? I can't wait to see where Captain Cook steers us in the fall.