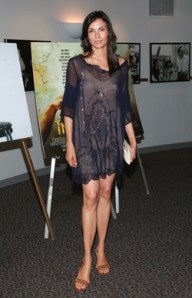 "We just thought the Ten Commandments were a great thing to hang a bunch of stories on," said David Wain of the new feature film The Ten, which he directed and co-wrote. Hey, that's what Cecil B. DeMille said!
Mr. Wain's version, a comedy, consists of 10 stories, each loosely corresponding to a Biblical commandment. It was filmed mostly in the five boroughs, with an ensemble cast so large that the Directors Guild Theater, where the New York premiere screening was held on Monday, July 23, could not accommodate the entire guest list, though Vogue cover model Winona Ryder and former Bond girl Famke Janssen both managed to squeeze their way in.
At the after-party­—fittingly held at the club Avalon, a renovated former Episcopalian church—Mr. Wain, whose other credits include Wet Hot American Summer, said The Ten was far from a highfalutin commentary on the role religion plays in the world today. "It's not a mean film at all," he said. "If anything, it basically comes out in favor of the Ten Commandments."
The director added that he was Jewish, "believes in God," and thinks that at their essence the Ten Commandments are about "love." Pretty deep, huh?
The Ten is narrated by thinking woman's sex object and Judd Apatow favorite Paul Rudd, who was also at the party, looking natty in a blue suit and striped tie. "We were just trying to make something funny and silly, really," he said.
"This is not meant to be a provocative film," added Zak Orth, another actor in the film. "God, no—we never talked about religion."
Co-star Liev Schreiber was not present for the night's festivities, surely home counting the seconds until his extremely pregnant girlfriend, Naomi Watts, goes into labor. "I think it's a pretty safe assumption that's why Liev's not here," said one of the organizers.