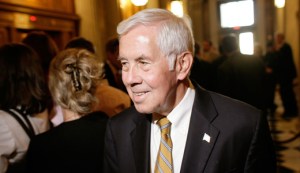 When Richard Lugar took to the Senate floor two weeks ago to express his grave concerns with the White House's Iraq strategy, he was celebrated in some quarters as the principled and courageous face of an emerging Republican "break" with the President.
Then, earlier this week, the Senate took up a measure—authored by Democrat Jim Webb and Republican Chuck Hagel, the only two Vietnam ground combat veterans in the Senate—that sought to guarantee that troops receive as much time off as they spend in combat. Its passage would have compelled the very reconsideration of Iraq policy that Mr. Lugar claimed to desire.
And yet he stayed loyal to the GOP line and voted no, thereby contributing to the measure's death by filibuster. Afterwards, conservative Senator Jon Kyl bragged to the press that the vote proved that talk of looming GOP defections was just that.
Granted, Mr. Lugar ultimately moved on Friday to call for a new vote on the war's authorization, but the question of why it took him so long is still worth exploring.
The less glamorous House—where simple majorities are still sufficient to move legislation—passed a bill this week that would force the withdrawal of most U.S. troops from Iraq by the end of next March. Only four Republicans voted yes—but for two of them, it was hardly their first break from their party on the war.
Meet Wayne Gilchrest and Walter Jones, a pair of Republican congressmen who have not won anything approaching the acclaim Mr. Lugar has enjoyed for his floor speech.
Like Mr. Lugar, they both voted to authorize the war in 2002, only to find themselves searching their souls as the occupation dragged on. But unlike the much-praised Senator, Mr. Gilchrest and Mr. Jones changed their minds on the war long before this month – and after doing so, they've never hesitated to back it up with legislation and floor votes.
But Mr. Lugar is the one who finds himself feted – by the media and his colleagues, even those who disagree with him – for exercising his conscience. For their courage, though, Mr. Gilchrest and Mr. Jones may end up with pink slips.
Both represent solidly Republican districts – Mr. Gilchrest's on the Eastern Shore of Maryland and Mr. Jones' in coastal North Carolina – and both are already being aggressively targeted by members of their own party in next year's primaries. It doesn't matter much that the news from Iraq vindicates both men, who turned on the President's war policies between 2004 and 2005, by the day. To many on the right, their independence is tantamount to treason – against their party, their President, and their country.
The web site of Mr. Jones' GOP challenger, an Onslow County official and self-described "statesman" named Joe McLaughlin, features a collection of photos of Mr. Jones and "his new liberal friends"—anti-war Democrats like Dennis Kucinich and Neil Abercrombie. Meanwhile, Mr. Gilchrest's challenger, state Senator Andrew Harris, campaigns on a platform of "strength, not surrender"—as if Mr. Gilchrest represents the opposite.
Of course, the actual stories of Mr. Jones' and Mr. Gilchrest's evolution on Iraq are far more complicated—and compelling—than the simple-minded and opportunistic caricaturing of their intra-party foes.
Mr. Gilchrest, 60, was a platoon leader in Vietnam and was decorated with a Bronze Star and a Purple Heart. When he returned from the war, he pored over the Pentagon Papers and immersed himself in the political history of Vietnam, stunned to discover that a war that claimed 59,000 American lives had been futile from the start.
He then became a teacher, with a side gig as a house-painter in the summers, and only in 1990 did he win his House seat, knocking off an unpopular incumbent. He's supported abortion rights, gay rights, and gun control, and has been a longtime campaign finance reform advocate and a regularly recipient of environmental group support. Long before Iraq, he was a thorn in his party's side—although when the war authorization vote reached the House in October 2002, he voted for it.
But after the 2003 invasion, Mr. Gilchrest began making regular visits to Iraq, and came to see alarming parallels to Vietnam, mindful of the lessons he'd learned after his own combat experiences. He came to regret his vote, as he told a Maryland newspaper earlier this year "because we have never been able to get through or have a real conversation with certain people in the administration who simply have this monstrous certainty about their position. Monstrous certainty—there's no other way to describe it."
Mr. Jones, meanwhile, didn't simply vote for the '02 resolution—he was so incensed at the unwillingness of "old Europe" to join in the invasion that he spearheaded the push to rename French fries in the Capitol cafeteria "Freedom fries." That symbolic gesture, in particular, endeared him to the very conservatives now demanding his scalp.
But that gesture's taunting jingoism never fully fit Mr. Jones, 64, a devoted but soft-spoken Christian first won his House seat in the GOP revolution of 1994. (He'd actually run unsuccessfully for the seat two years earlier as a conservative Democrat, seeking to replace his father, Democrat Walter Jones Sr., who passed away after decades in office.)