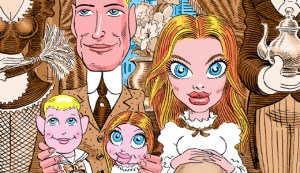 On a balmy morning in June, Rebecca Miller, a petite 26-year-old actress and Brown University graduate, was perched on a wooden bench in the East Village, just a block from the apartment she shares with her fiancé, a theater director, and two cats. By the looks of her outfit, she was firmly grounded in the 21st century, just another hip lass with loose curls, a scoop-necked top and denim skirt with naughty front slits.
Then she opened her mouth, and it was if one had been transported back—oh, 150 years or so. "We had been talking about getting married since we got together," Ms.—or perhaps we should write Miss—Miller said, describing how her friend Noelle had, early on, asked her beloved his "intentions"; how he had proposed last autumn, presenting the diamond ring that now glittered in the cloud-light on her left hand. "Ever since I met him, I felt like we're a strong unit that would be a great foundation for a family," she said demurely. "We're very settled in and cozy; we're like Hobbits in our little place."
There was a time, not too long ago, when the young and the aimless hightailed it to New York City in pursuit of an altogether different urban experience than the domestic bliss enjoyed by Miss Miller and many of her bosom companions. High on a cocktail of recklessness and abandon, they came here to find their id, lose their superego, shake up the world, or simply shake their thang. Then they promptly chronicled these exploits in confessional sex columns.
But recent years have seen a breed of ambitious, twentysomething nesters settling in the city, embracing the comforts of hearth and home with all the fervor of characters in Middlemarch. This prudish pack—call them the New Victorians—appears to have little interest in the prolonged puberty of earlier generations. While their forbears flitted away their 20's in a haze of booze, Bolivian marching powder, and bed-hopping, New Vics throw dinner parties, tend to pedigreed pets, practice earnest monogamy, and affect an air of complacent careerism. Indeed, at the tender age of 28, 26, even 24, the New Vics have developed such fierce commitments, be they romantic or professional, that angst-ridden cultural productions like the 1994 movie Reality Bites, or Benjamin Kunkel's 2005 novel Indecision, simply wouldn't make sense to them.
As one soon-to-be-married, female 26-year-old online editor who lives in Williamsburg put it: "It's no longer cool to be a slacker and be living in your basement."
"There isn't a lot of … discussing ourselves," added her friend, a 25-year-old Mount Sinai medical student (many New Vics asked not to be identified, befitting their ethos of propriety, modesty and caution). "In this particular cohort there's not a lot of despair. I don't have any friends who think they're a cog in a wheel or are going to work at the Gap." Heaven forfend!
'Home and Hearth and Eating'
Eminent New Victorian couples can be found all over New York these days, puttering about their brownstones (original detail carefully restored), or pushing babies with names like Beatrice, Charlotte, Theodore and Henry in gigantic prams to the local playground. Some of them are famous. Actors Michelle Williams, 26, and Heath Ledger, 28 (himself named for Emily Brontë's brooding hero!), swan about Boerum Hill with daughter Matilda; authors Jonathan Safran Foer and Nicole Krauss, both kissing 30, snuggle in Park Slope with son Sasha (with its turrets and trimmings, the Slope is a New Vic neighborhood preserved in aspic). Down in the West Village, we have Liv Tyler, barely 30, the daughter of Aerosmith's Steven Tyler and legendary rock-star muse Bebe Buell, who's now contented wife to Royston Langdon and mother of 2-year-old Milo. "I've always been super-responsible and hardworking and kind of a worrier," she recently told Allure. Even former rebel Angelina Jolie has turned somewhat New Vic on us, what with her adopted brood and her causes and empathetic emaciation. Yes, the wasting disease!