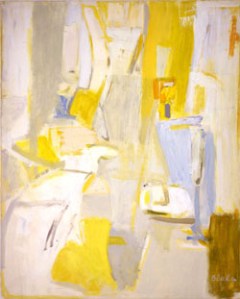 The 1950's were certainly not the best of times for a young artist to head to Paris. Europe was recovering from the devastation of the Second World War. From the standpoint of art, the vaunted School of Paris was, if not spent, then close to it. True, Matisse was alive, Braque was arguably at his strongest, and Giacometti was continuing his relentless search for the actual. But Picasso, Léger and Miró had diminished considerably in intensity by then. Nicolas de Staël, Balthus and Jean-Paul Riopelle, along with the pseudoprimitive Jean Dubuffet, kept the faith, but in a minor key.
Still, a mini-exodus of postwar artists found inspiration (and, for some, a permanent home) in the City of Light. Americans in Paris: Abstract Painting in the Fifties, an exhibition at Tibor de Nagy Gallery, focuses on this largely unexplored, if not unknown, tangent of midcentury American art, displaying paintings by Sam Francis, Biala, Seymour Boardman, Shirley Goldfarb, Kimber Smith, Shirley Jaffe, Norman Bluhm, Al Held, Joan Mitchell, Ellsworth Kelly and Beauford Delaney.
Isabelle Dervaux, Curator of Modern and Contemporary Drawings at the Morgan Library and essayist for the Americans in Paris catalog, describes the Parisian scene of the time as "anything but dynamic." She writes further that "[t]he dice were cast: New York had replaced Paris as the new international center of art."
It's an old story: American upstarts—New Yorkers, really—powered in no small part by the country's can-do spirit, absorbed the lessons of Picasso and Surrealism, and created their own expansive vision. The triumph of the New York School (to use the art historian Irving Sandler's stirring words) was monolithic and daunting, its influence immeasurable.
That this triumph had its share of holes—AbEx contemporaries like Stuart Davis, Edwin Dickinson and Richard Lindner have, over time, showed up Franz Kline, Robert Motherwell and Jackson Pollock as narrow talents—doesn't discount its cultural significance. The attention focused on American art wasn't lost on other artists, including the expatriates spotlighted here.
All the same, Paris retained its luster for these painters, its appeal irresistible, if somewhat illusory. Writing to Al Held, the art critic Clement Greenberg denied the city's continuing relevance: "You young fellows created the Paris you thought was there." The G.I. Bill helped foster their romance. Parisian art schools, including Léger's atelier, benefited from the American influx, though the U.S. government didn't exactly enforce diligent work habits. As long as the school was accredited, students got a decent monthly stipend, even with spotty attendance.
The Americans clearly enjoyed the Parisian extracurriculars—a convivial atmosphere that was at odds with the burgeoning careerism stateside. Sam Francis marveled at café society: "You come in, you sit down, you talk, you leave, nobody asks you anything." Shirley Goldfarb wrote that she "was having so much fun living in Paris that I forgot to go back to America to get famous."
But America's artistic dominance did weigh, if not heavily then persistently, on their efforts as artists. With the exception of Mr. Kelly, who has always been a paragon of cleanly stated single-mindedness, the painters featured in Americans in Paris looked to the States even as they enjoyed their adopted hometown's douceur de vivre. Abstract Expressionism's fast, loose and splashy style traveled round the globe with ferocious dispatch. It didn't always travel well; any strain of art will have its share of ardently derivative practitioners. So it is with the work on display at de Nagy.
With the exceptions of Joan Mitchell and Sam Francis, who came into their own during this time, the rest of the Americans are seen in transition—excited and confused painters searching for individual approaches. Their enthusiastically so-so efforts nonetheless reveal some gifted painters with serious intentions. Boardman looked clearly and deeply at Rothko's paintings and, through them, at Bonnard. Biala was thrilled by de Kooning, as was Bluhm and to a subtler extent Ms. Jaffe. Only Kimber Smith's listless variations on landscape seem clueless and dim.
If we regard midcentury Paris as a way station rather than a destination, the view improves—if not on the gallery walls then from the perspective of history. The funereal murk of Mr. Held's untitled canvases would lead him, albeit circuitously, to his deeply considered, monumental "alphabet" abstractions. Biala would harness her love of de Kooning to increasingly gratifying still lifes and interiors. Norman Bluhm's overheated gestures would coalesce into an almost ridiculously erotic art—splayed bodies, inspired by Islamic art, done up in a vibrant palette. Ms. Jaffe would rein in her brush to sift and refine the city's physical characteristics into shimmying clear-eyed abstractions.
Each of these artists found their maturity after the historical moment examined in this show. The spirits of Matisse's Luxe, Calme, et Volupté infuse the paintings, which are marked by pleasure, not anxiety. But they don't quite justify them: The pictures are well-meaning, but inessential. Americans in Paris is a heartfelt valentine to a great city, but one whose considerable influence was already well in the shadow of a new cultural capital.
Americans in Paris: Abstract Painting in the Fifties is at Tibor de Nagy Gallery, 724 Fifth Avenue, until Sept. 29.