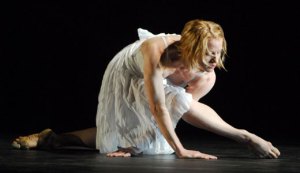 Bard College's adventurous and ambitious SummerScape season, this year featuring the music of Elgar, opened with a program by the Doug Varone company. There was a provocative new piece, set to Elgar's famous cello concerto, but in a version with piano rather than orchestra accompaniment, which makes it a very different piece of music—narrower and thornier. And, I would imagine, less easy to dance to: Elgar's original rich orchestration would provide far more emotional context for the dancers to sink into.
The piece opens with the company's most exciting dancer, the ravishing blond Natalie Desch, alone on the stage. She's in a simple white dress—all the performers are in white—and Varone exploits the fervent emotion of the opening adagio to give her an extended, anguished solo. What haunts her we don't know, but Desch dances with such conviction that, as she falls again and again to the ground, prostrating herself, we feel with her even if we don't understand her. The following duet, for a man and a woman, is equally emotional. And then three men, in the ballet's most original and striking section, confront and comfort each other until the entire company of eight comes together for an ending that brings, if not resolution, a stirring final image of Desch rushing forward toward us, having survived and, perhaps, prevailed: Victorious—the name of this enigmatic, challenging piece. How fascinating it would be to see it grouped with two previous undeniable masterpieces set to Elgar: Ashton's Enigma Variations and Paul Taylor's Sunset.
Framing Victorious were two earlier Varone works. First, Castles, which I liked so much when it was first performed in New York, in 2004, that I saw it three nights in a row. This is a tumultuous group work, set to Prokofiev waltzes, that blazes with excitement and humanity. Some of the music echoes the composer's Cinderella, and there are echoes of his Romeo and Juliet as well. Are there specific references to those ballets in Varone's choreography? Perhaps. But what matters is the passionate fluent invention, reflecting a heightened vision of men and women interacting and separating, in constant flux between intimacy and isolation.
Last on the program was Lux, which was first shown last year at the Joyce. The music is by Philip Glass, at times almost over-familiar because of its similarities to the score of Twyla Tharp's In the Upper Room. This piece is dressed all in black, with a stark and beautiful background of dark sky, a small moon slowly and steadily rising from the bottom to the top of the stage. There's a highly charged duet for two men, another for a man and a woman, and throughout, what we can identify as Varone's basic impulse as a choreographer: using the uninhibited kinetic brilliance of his dancers to explore the sometimes violent, sometimes embracing way people deal with each other. Perhaps because his work is so unabashedly full of feeling, so human, the choreographer I most associate him with is Taylor, although his background is actually with José Limón and Lar Lubovitch.
One of the most striking things about Varone's repertory is the beauty and elegance of the décor. Liz Prince, the costume designer, has a faultless eye, as with the black costumes for Lux, which are subtly punctuated by a streak of silver down one leg. She's currently the finest costume designer in dance. Varone not only has impeccable taste, but his intelligence gives his pieces solid structure beneath their free-flowing surface. If he lacks anything, it's variety of approach—you could say that this Bard program was too much at the same emotional temperature. But I, for one, can never get too much of a good thing.
UNLESS IT'S A GOOD THING that gets on my nerves. Alas, I have a limited capacity to enjoy Savion Glover concerts. There's no denying his mastery of his medium—his technical genius—and there's nothing like the way he makes music with the sound of his tapping. But after a while I just don't want to be watching someone tap-tap-tapping on a rectangular box, all feet and very little body. And so much self-absorption! Glover is currently at the Joyce with two other male tappers spelling him in the first half of the program. They're superbly synchronized, they're devoted, but enough is enough.
Unfortunately, in an effort to provide variety—or relief—he's chosen to bring on several dancers from different disciplines for the second half of his program, and the result is disaster. Let's draw a veil over the deficiencies of these dancers and the material they provided themselves with and just quote from their program bios to suggest the self-delusional quality of their work.
One of the girls "has choreographed and performed over 35 original classical and modern ballet vignettes, each one a jewel of many depths and colors unto itself. Industry professionals, seasoned dancegoers and newcomers alike have praised Suzana's work for its incredible beauty, intensely felt life and spirituality." Another girl "began dancing at age three and continued to study multiple dance techniques, which eventually landed her next to Paula Abdul on The Howie Mandel Show." More recently she "appeared in extra video work for Britney Spears' 2004 Onyx Hotel Tour." You could tell.