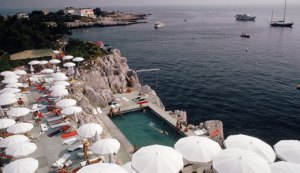 My fingerprints have been taken. I'm waiting to get the call. No, I'm not about to get dragged off to jail: I am in the process of becoming an American citizen. But how to spend July 4th, my last as a Brit?
Two round-trip tickets to Nice, s'il vous plaît!
There's nothing like spending 10 days surrounded by a bunch of Frogs to fire up some of that good old-fashioned U.S. patriotism. Since my return, I find I am brimming with a newfound appreciation for all things American.
Before I launch into a kvetching bitch-fest about the French, let me state, for the record, that the South of France is a totally bloody gorgeous place for a vacation. From the fields of lavender in the Luberon valley to the fields of hair-plugs on the aging playboys of Monaco, there is nothing quite like it. No, my intention is not to put the kibosh on the Côte, I merely want to make you aware of quelque choses.
Let's start with La Mode. The area's legendary glamour and panache is alive and well, but only among the Russian oligarchs, their fabulously tarty girlfriends, we Americans, and wee Americans like me and my Jonny. We are the only people wearing resort-appropriate loud colors and snazzy prints. As a result, we stand out like a gauche thumb. When my Jonny and I entered the restaurant at l'Oustau de Baumanière—I was wearing orange nylon Prada shorts, teamed with a Liberty print floral shirt, while he was featuring a striped matelot top with Vilebrequin doggie-print swim trunks—the gourmandizing bourgeoisie stared at us disdainfully as if we were a couple of Duane Hanson tourist sculptures come to life.
And what were the Frogs wearing? Unforgivably, they eschew the fun, the fabulous, and the flamboyant in favor of a safe white/beige/greige monochromatic linen-draped pseudo-sophistication. Yawn! Thank God for the ubiquitous Russkies, who refuse to don any garment unless it is emblazoned with a Swarovski crystal skull. Vive la vulgarité!
La Mer: O.K., I admit it, the Med is a much prettier color than Peconic Bay, but it's muckier too. No matter where one is sploshing, one will eventually encounter a ghastly swath of floating Eurotrash, the contents of which invariably includes a surgical glove and a maxi pad. Kôtex d'Azur, anyone?!
La Cuisine: Something's blowing in the wind and it doesn't smell so great. There is a new Mistral of "gastronomic creativity" currently raging from Monte Carlo to St. Tropez. The current crop of chefs—all straight French dudes—insist on startling us diners by covering their profferings in foam (does the cook have a touch of rabies tonight?) and/or floating them on a bed of belching dry ice. "You think this is contrived," said the manager of one hotel eatery where everything was served on triangular plates, "the last place I worked at, the chef was shoving filet mignon into a syringe!"
Lingering outposts of the legendary provender of yore still exist. In Cap Ferrat we—I, my Jonny and our traveling companion, empress of maternity-wear, Liz Lange—dined at La Chaumière, where a burly Gérard Depardieu type hurled lumps of raw meat into an open fire while we extracted raw crudités from giant wicker baskets. My bucolic joie de vivre came screeching to a halt when I ordered le poulet and was frostily told, "Non! Pas possible. Il faut réserver." Adjacent Frog diners gawped at me in a how-come-you-did-not-know-that-if-you-want-to-eat-chicken-you-have-to-call-ahead-two-days-in-advance-you-colorfully-attired-fool-you kind of way. Who came to my rescue? A delightful American broad shared her bird with me.
As our trip unfolded, that old accepted notion that when traveling one should try and avoid fellow Americans made less and less sense. Here's a tip that I got from Ms. Lange, who is the niece of former 80's go-go social scenesters Saul and Gayfryd Steinberg and knows a thing or two about glamorous living: When arriving at a restaurant always ask to see the celebrity guest book. We did this when we arrived at Tetou in Juan les Pins. Yes, it was nice to know that Catherine Deneuve and Simone Signoret had dined there—whatever!—but we only really began to relax when we turned the page and discovered that Heather Locklear had also broken bread in this historic establishment.
The crowning example of American largesse on our trip—the gesture which I shall be thinking of when I get sworn in down at City Hall—occurred at the celeb-encrusted Hotel du Cap-Eden Roc. Though there was no sign of recent guests Tom-Kat or Ton-Eva, we found the cliff-top pool positively churning and gurgling with chatty, forthcoming, unpretentious fellow New Yorkers, many of whom seemed to be related at one time or another to the glam Ms. Lange.
Suddenly, out of the water popped a well-known New York real estate macher, "a semi-cousin through marriage" of Ms. Lange's. Unprompted, he announced that he and his mashpucha were leaving on a boat trip and that we, if we so desired, were welcome to snag his two oceanfront suites for two nights. GRATIS! Before you could say "Je ne regrette rien" we had checked out of our other Frenchy hotel and installed ourselves at the gorge Du Cap. Merci buckets, Tommy, and vive la générosité americaine.
After ten days on the Côte, I now consider myself an expert on navigating that dour French cultural superiority. Here are my two basic tips: Firstly, avoid all culinary contrivances by ordering off the children's menu. Secondly, keep in mind that joie de vivre is an essentially American concept. When well-intentioned advisers exhort you to avoid your fellow countrymen, they are deliberately leading you toward the self-loathing darkness of an all-out Francophilia. If you wish to come toward the light—and you have a mind to grift a free room or two—then follow the Yanks.