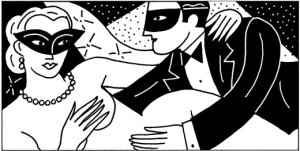 It was well after midnight at the Beatrice Inn, the exclusive nightclub on West 12th Street where many of Manhattan's most beautiful and sophisticated women like to socialize with their friends. Several of them were dancing on the small intimate dance floor—some of them even toppled over every now and then.
I went around asking pretty girls about their top 10 sexual fantasies.
In the main room—aha!—I spotted Lauren Davis, the bewitching, long-legged blonde social minx and Vogue contributing editor; she was sitting with the painfully sexy Sarah Howard, who was wearing a 60's mod mini and ankle booties and is best known for dating Red Hot Chili Pepper rock 'n' roll star Dave Navarro. She has also just finished making her first movie, about lesbian cheerleaders who hook up together.
"Let's start with No. 10," Ms. Howard said. "I want to go on a shopping spree for all high heels, open toe, with a guy who has a shoe fetish and massages my feet while I'm trying them on. No. 9, I want to go to a topless beach in Europe and stare at all the beautiful breasts."
"Oh, No. 1's going to be awesome," interjected Ms. Davis, who opted out of answering about her own fantasies (she's soon to marry a very handsome gentleman.)
"No. 8, I want to grow out my hair, so I can cover all the way down to my waist—and then I don't have to wear a shirt," Ms. Howard continued. "And let it go very sexy—you know—beach-y, surfer-ish, all the way down." Her hands moved slowly down her body.
I was finding Ms. Howard to be invigorating.
"No. 7," she said, "I want to meet a hot captain of a yacht."
"You know, you can get married at sea by a captain," noted Ms. Davis.
"No. 6, I want to marry not the captain, but I want to marry someone on the same yacht—I'll just have an affair with the hot captain, and then the hot captain can marry me. No. 5, I want to spend the night with Kate Moss and just stare at all of her clothes and go through her closet. And Lauren would make out with her!
"I want to watch David Beckham play football naked," Ms. Howard continued. "No. 3, I want to spend the night on a deserted beach with a man of my dreams and I want us to both have our clothes washed away to sea, so we just have to frolic naked all day long, and we have no tan line. No. 2, I want to have a dinner party with all swinging couples and be blindfolded in the master bedroom of a château in France, where my dinner party is going to be, and not know who's touching me. Okay, and No. 1—my ultimate, ultimate—is I want to watch Kate Moss and Sienna Miller hooking up with strap-on dildos!"
I thanked her and moved on to a nice blond woman in a green halter top and jeans who said her name was Jenn and that she was a personal assistant in her early 20's.
"Ten, so you're at a masquerade ball, completely masked, and you have sex with complete strangers, but it's so hot and it's great sex," said Jenn. "But you never see them ever again. That would actually be No. 1. For No. 2, I'm jet-setting to Fiji with someone I really like, and it's all last-minute, and you don't pack anything and you have wild sex the whole way there, and it's on a private jet. Three—I'm not going to make it through 10, there's no way in hell—O.K., how about unlimited shopping at Gucci and sex in the sales room."
Next I sat down with Alexa Rose Greenstadt, a lush, busty and witty 21-year-old who was wearing Lanvin pearls, a Zac Posen dress and brand new Prada shoes.
"My top 10 sexual fantasies? First he takes me to the Waverly Inn."