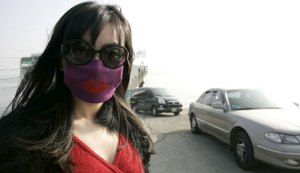 TIME
Running Time 97 minutes
Written and directed by Kim Ki-duk
Starring Park Ji-yun, Ha Jung-woo
Kim Ki-duk's Time, from his own screenplay (in Korean with English subtitles), unfolds as an incongruously brightly lit tale of disenchantment and despair over the impermanence of all things, most of all romantic love under the hammer blows of time. Hence, the unusual abstractness of the film's title, which marks the 46-year-old Mr. Ki-duk's 11-year output of 14 features, of which I have seen only two, Spring, Summer, Fall, Winter … and Spring (2004) and 3-Iron (2004), and have been enormously impressed by both. So with the authority of almost complete ignorance about Mr. Ki-duk's career, I designate Time his darkest effort to date, though much of it plays like a giddy farce.
The narrative begins outside a Seoul plastic surgery clinic where very good-looking Seh-hee (Park Ji-yun) bumps into a woman with a surgical mask on her face. A framed picture the masked woman was carrying drops to the sidewalk and breaks. Seh-hee apologizes profusely and promises to repair the picture. This is a setup scene that will be repeated ritualistically throughout the film, as will other collisions of one kind or another.
Seh-hee proceeds to a café to meet her boyfriend of two years, Ji-woo (Ha Jung-woo). We very quickly discern that their relationship is in crisis mode, due to Seh-hee's violent jealousy verging on paranoia about her boyfriend's seemingly increasing interest in other women. When they try to make love, Ji-woo is unable to respond until Seh-hee strangely suggests that he think of another woman whom he has recently met only casually, and bingo! he is able to perform. This convinces Seh-hee that Ji-woo is tiring of her, and drastic measures are required to restore their passion.
Actually, the film begins with gruesome, unexplained footage of plastic surgery in practice. So the idea has been well-planted for Seh-hee to visit the clinic in a desperate search for a solution to her problem. The sympathetically presented plastic surgeon (Kim Sung-min) urges Seh-hee not to rush into such a drastic procedure without taking time to think about it. Seh-hee chooses to ignore his prudent suggestion and rushes into the face change, after which she disappears from Ji-woo's life without a trace for six months while the surgical scars heal.
Ji-woo is hurt and baffled by Seh-hee's unexplained desertion. He revisits a vacation spot they once visited, and here the film focuses on a piece of seaside sculpture, the permanence of which seems to moc the transient feelings of lovers who pose for photographs in its granite folds. The sculpture survives even the changing of the tides and the passage of time.
When Seh-hee ventures to return to Ji-woo in the guise of the cocktail waitress See-hee (Seong Hyeon-ah) in the very café she frequented with Ji-woo when she was Seh-hee, she allows Ji-woo to pick her up and watches him contentedly as he agonizes over his infidelity to the long absent Seh-hee. But she gradually realizes that she is trapped in a conundrum of her own making. What will Ji-woo's reaction be if and when she chooses to reveal her dual identity? And then what is it that she is actually feeling now that her transformation has produced new problems that she had never anticipated?
I choose at this point not to deprive my readers of the surprise, harrowing as it may be, of witnessing the disastrous consequences of Seh-hee's deception in becoming See-hee. Time is ultimately a strange movie, at once depressing and exhilarating, as it contemplates the futility of battling the inexorable tides of human existence. Mr. Ki-duk's greatest achievement consists of his finding a visual correlative for all the paradoxes in his narrative. That he uses two different actresses to play the same character only adds to the audacity of his conceit. Time is well worth your time as a moviegoer.