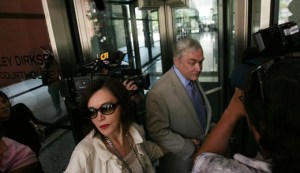 We're a little obsessed with Barbara Amiel, devoted wife of Conrad Black who once said of herself in a Vogue profile: "I have an extravagance that knows no bounds."
So imagine our excitement so see that Richard Siklos had written a short piece about the Lady Black!
Like her husband, Ms. Amiel has had detractors over the years and has shown little interest publicly in portraying herself as a sympathetic character. Mark Steyn, a former columnist for Mr. Black's newspapers and his staunch defender, noted in a recent blog entry that Ms. Amiel wondered out loud to him about the jury: "Do they all hate us?"
And like her husband, she seems to have little sympathy for journalists, despite having been around them her entire career. On the second day of the trial, Ms. Amiel made headlines in Canada and Britain when she lost her cool with a couple of journalists in an elevator, calling them "vermin" and one of them "a slut."
In her writing, she struck a grander tone. In a May column [for the London Telegraph] she wrote, "what we are living through is not especially noteworthy on any scale of nightmares. I suppose it's the process of being singled out that is often more frightening than the thing itself. A Holocaust survivor once explained to me that when Jews were being rounded up it was awful, but you were not in it alone."
Sounds like good material for a book! And apparently in their home country of Canada, that's just what publishers are trying to get her to do.
[Some will remember that some time ago Lord Black had reportedly come close to buying this newspaper—and speculation was that Ms. Amiel, who is the owner of a vast couture wardrobe and of a pretty nice-sounding apartment on Fifth Avenue near our old East 64th Street headquarters, would run the Observer.]