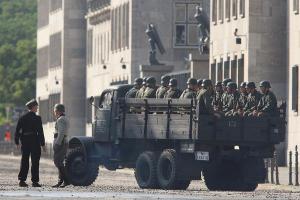 11 people were injured when the side panel of a truck they were riding on during shooting for Valkyrie, the Tom Cruise historical thriller about a plot to assassinate Adolf Hitler.
Though one of the injuries was serious enough to compel the victim to remain in the hospital, there's nothing to fear according to what a German police spokesman told Reuters (via CNN.com):
"We have no findings to suggest anyone famous was involved in the accident," said a police spokesman, adding he did not know whether it would affect the shoot this week.
Mr. Cruise plays Col. Claus von Stauffenberg, whose military plot to assassinate Hitler in July 1944 failed.