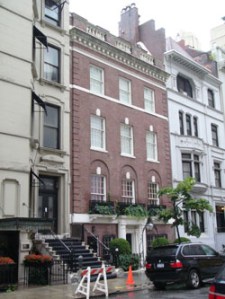 It's the beginning to a Bible parable about big-city indulgence and ambition: Two brothers, liquor heirs Matthew and Edgar Bronfman Jr., both sold their Upper East Side townhouses this summer for about 11 times what they paid for each in 1994. Edgar's place, the bigger mansion, will reportedly go for around $51 million.
Meanwhile, the housing market everywhere else in the country is morbid, Wall Street is skittish and even Mayor Bloomberg says pricing here should be coming down. "You might think we were being set up for some major reversal," said Prudential Douglas Elliman senior vice president George W. van der Ploeg.
But New York is unfallen: This autumn's new batch of listings will trek onward and upward.
According to two sources, Roger Barnett (CEO of natural products company Shaklee) and his wife Sloan (cellphone billionaire George Lindemann's daughter) have begun to quietly ask around $62 million for their 125-year-old neo-Georgian town house. The 33-foot-wide mansion at 16 East 69th Street, designed by Peter Marino, was bought less than seven years ago for $11.5 million.
The place hasn't officially been listed, though the family is consulting with brokers. One source said the sellers have had an offer in the mid-$50 million range. That wasn't enough.
"Money just doesn't mean anything," Stribling executive vice president Kirk Henckels said.
Call it gigantism: Massive numbers are getting more massive. Before Matthew Bronfman's $33 million sale last month, no 25-foot-wide townhouse had ever closed above the $30 million mark. "If he waited six more months, I swear to god he would have had $40 million," said listing broker Sami Hassoumi, a Brown Harris Stevens managing director, "because there is nothing, nothing for sale at superb condition."
No townhouse in New York City has ever been officially listed for more than the Barnett place. Likewise, no apartment had sold for $50 million before two spreads in the newly made-over Plaza broke that sacred ceiling this summer.
Our city knows its real estate is monstrous and anarchic, and that the sales price of an average apartment has tripled over the past decade. But that stat is trivial compared to the high-end's dazzling rise. There are more big-ticket buyers around who are willing to spend their money on "fine art" real estate, even if prices are so much vaster than last decade's.
"The disparity between the rich and the superrich is becoming ever greater," Mr. Henckels said, "and until that reverses itself, the prices at the very high end are safe."
Downtown is getting in on the superrich action too. Venture capitalist Fred Wilson sold his family's West 10th Street townhouse this March for $33.15 million, though he reportedly paid $7.35 million in 2000. And a full-floor penthouse at 200 11th Avenue, with an en-suite car garage space, will go on the market this September for around $18 million, which listing broker Leonard Steinberg at Douglas Elliman said will be the biggest Chelsea listing ever.
In an e-mail, Mr. Steinberg cited demand from "the NOUVEAU nouveau riche"—homegrown but especially foreign.
"Everyone with euros or pounds," said Kathy Sloane, the Clinton family broker and another Brown Harris director, "thinks we're giving real estate away." She said she's broken records at every building she's sold in this year.
Mayor Bloomberg doesn't think our market should be so bubbly. His 2008 preliminary budget presentation this January shouted, "Home Prices and Sales Volume in the City Are Expected to Decline"—citing numbers from the Department of Finance and his own office to forecast a dip this year and next. And that wouldn't be such a bad thing.
The maestro of our boiling market is billionaire J. Christopher Flowers, who set the townhouse record in October 2006 when he paid $53 million for the Harkness Mansion off Fifth Avenue. He paid $17 million in November for a second townhouse nearby, and sold it for $6 million more within six months.
"I said, 'The price will be $23'" Mr. Hassoumi, his broker, said. "My seller would say, 'Are you sure?' I would say, 'Absolutely.'"