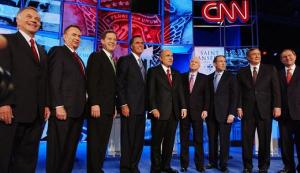 Thank God for the Ames Republican Presidential Straw Poll.
It's probably not the healthiest expression of democracy – the right to vote costs 25 bucks, with campaigns typically gobbling up chunks of tickets and handing them out to participants who might not be anywhere near Iowa come next January's caucuses – but it sure gets the job done. After the last competitive straw poll, in the summer of 1999, three candidates were forced from the race, reducing an unruly G.O.P. field to a more manageable size.
Three big-name Republicans are skipping this year's festivities, which are slated for Aug. 11, but the poll should nonetheless serve as another exercise in political Darwinism. Counting Fred Thompson (and keeping in mind that someone named Jim Gilmore recently dropped out of the race) there are now ten candidates seeking the G.O.P. nomination. After Ames, we could be down to as few as a half-dozen.
The intrigue will largely center around the lower-tier candidates – the cast of desperados whose main contribution thus far to Campaign '08 has been to clog the stage during debates. Particularly poor showings could destroy what ability they now have to raise money and attract press attention and crowds. Conversely, a surprise second-place showing (the top spot has been all but ceded to Mitt Romney, the lone top-tier candidate contesting the straw poll) could boost one of the lesser-knowns into serious status.
Along with Mr. Thompson, Rudy Giuliani and John McCain will not participate in Ames, decisions that portend poorly for their prospects in January's caucuses. (At least this is the ominous spin preferred by the Iowa state G.O.P., for whom the straw poll is a financial bonanza.) Of course, Mr. McCain bypassed the straw poll (and the caucuses) when he ran in 2000, but it didn't stop him from shellacking George W. Bush in New Hampshire and emerging, for a time, as the most popular politician in the United States.
So August 11 will be a make-or-break day for the little guys.
Of the six second-tier aspirants, who will be having second thoughts about his candidacy on August 12?
The most obvious candidate is Tommy Thompson, who – to his credit – has not been cute about playing the expectations game.
"It's the ballgame for me," he said recently of the straw poll. "I wouldn't be doing this if I didn't think I could win."
Of course, Mr. Thompson, who governed Iowa's next-door neighbor Wisconsin for 14 years, may be the only person who thinks that. He has thus far failed to distinguish himself on the campaign trail, save for a mini-firestorm after the first G.O.P. debate, in which he endorsed the right of employers to fire workers on the basis of their sexual orientation, only to claim afterwards that a dead hearing aid had prevented him from hearing the question properly. Mr. Thompson's glory days were in the 1990s, when his pioneering welfare reform efforts in Wisconsin won him considerable attention. But now his candidacy feels 8 or 12 years too late – and his first-place-or-bust rhetoric about the straw poll sounds more like an escape hatch than genuine confidence.
Another candidate who could be headed for the exits is Tom Tancredo, who has seemed directionless since the Senate killed a bipartisan immigration reform compromise last month. Opposition to "amnesty" is Mr. Tancredo's calling card, and is the otherwise-obscure Colorado congressman's only shot at differentiating himself from the nine other Republican contenders. But with the compromise bill dead, Washington has tabled the issue until after the 2008 elections. A lousy showing in Ames might offer Mr. Tancredo a chance to take George Aiken's famous advice about Vietnam – declare victory and get out.
Duncan Hunter's Ames prospects – and, more broadly, his prospects in next year's primaries and caucuses – are no better than Mr. Thompson's and Mr. Tancredo's. But he's also resisted talking up the straw poll's importance, so there might not be extra pressure on him to drop out if he finishes, say, in fifth place (or worse). The San Diego congressman has no national momentum and – like most Senators and House members who seek the presidency – seems incapable of understanding that most voters, even those in primaries, do not pay attention to the day-to-day proceedings in Congress. But even if he knows it's hopeless, Mr. Hunter is an unlikely bet to drop out: He is giving up his House seat next year and his son is running to replace him, something Mr. Hunter makes sure to mention in debates and press appearances. Some presidential candidates are really running for Vice-President; Mr. Hunter seems to be running for President so his son can become a Congressman.
That leaves Mike Huckabee, Sam Brownback and Ron Paul. Mr. Paul, whose quirky libertarianism and forceful denunciations of the war have generated more excitement than perhaps any other candidate, will not drop out after Ames no matter what. And given the grass-roots fervor his effort has generated, there is some talk that he might make noise in Ames with a second-place finish – which would call into question many of the assumptions about his supposedly limited viability in January's caucuses. But even if he finishes in the middle of the pack, Mr. Paul has created enough buzz and raised enough money to continue well past the straw poll.
Mr. Huckabee and Mr. Brownback, however, seem to be locked in something of an elimination contest. Both emphasize their religious backgrounds on the campaign trail and both are angling for the same lot of socially conservative voters who are disproportionately influential at both the straw poll and in the January caucuses. With his quick wit, Mr. Huckabee has generated more media attention than Mr. Brownback so far, but both men are solidly lodged in the second tier. This dynamic probably explains the ugly sniping between the campaign this week, with Mr. Brownback demanding that Mr. Huckabee repudiate an e-mail from a supporter that cast aspersions on Mr. Brownback's Catholic faith.
History shows that not everyone knows how to take a hint from Ames. Orrin Hatch, for instance, kept plugging away months after his ninth-place finish in 1999, taking up valuable time during G.O.P. debates even though it was clear no one was interested in what he was saying. Still, odds are that Ames will serve its ruthless purpose this year, culling the no-shots from among the long-shots.
Mike Gravel and Chris Dodd should count their blessings that the Democrats don't have a similar mechanism.