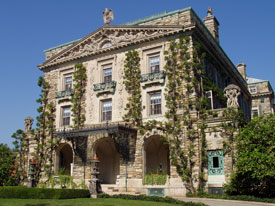 THE HOUSE THE ROCKEFELLERS BUILT: A TALE OF MONEY, TASTE, AND POWER IN TWENTIETH-CENTURY AMERICA
By Robert F. Dalzell Jr. and Lee Baldwin Dalzell
Henry Holt, 333 pages, $30
Is a house a metaphor? Robert and Lee Dalzell would say so. In The House The Rockefellers Built, they argue that Kykuit, the mansion that John Rockefeller Jr. ("Junior") began building for his father in 1906, is laden with meaning. What exactly it means, however, is less evident than the fact that the authors—a professor of history at Williams College and a former reference librarian—are convinced something is at stake, something the reading public ought to care about. I'm not so sure.
Undoubtedly, the Dalzells show that Kykuit, which overlooks the Hudson River in Westchester County, is no ordinary house. By 1912, its estate comprised more than 2,000 acres of land, with 20 miles of roads, a golf course and some 90 houses, most of which were rented out to the estate's 200 or so outdoor employees—who not only maintained the grounds but ran a dairy, raised chickens and other livestock, grew vegetables and flowers, operated a stable and guarded the estate's perimeter from intruders. In the 1920's, a "playhouse" was added for Junior's children, with an indoor pool, a gymnasium, a billiard room and squash courts. This was no mere country getaway—it was a largely self-sustaining establishment that at its height bore some resemblance to a fiefdom in feudal Europe.
Building Kykuit was the pet project of Junior's. As the son of the richest man in the world, he seems to have been bent on emulating the class pretensions and stuffiness of the British aristocracy while surpassing them in grandeur. The Dalzells are more charitable about his motives: They say he wanted Kykuit to be "modest and unpretentious—no opulent palace, certainly—yet still beautiful, its architecture and contents displaying the highest, most noble values." To that end, "when suitably mature ivy plants were found in England, they were imported. … Clipped trees, some in the shape of animals, were imported from Holland. … Six orange trees said to be over two hundred years old and not even, according to [Junior's landscape designer], to be rivaled by those at Versailles, were shipped in from a château in France." (Maybe I spend too much time at Ikea, but this hardly fits into my idea of modest and unpretentious.)
If this book were merely a prurient look at how this almost unfathomably wealthy family lived, it would succeed. There's plenty of voyeuristic pleasure to be had in learning the details of the Rockefellers' daily lives and their myriad grand residences. But the Dalzells' tone is bizarrely overripe, almost fawning, as if this were the stuff of epic drama. For instance: "As fate would have it … feelings were nearing fever pitch just as plans were being made for the delivery of the mammoth granite bowl. …" Or: "Literally scores of decisions had to be made, some minor, some not. Where would the heating plant go, in the basement of the house or in the coach barn? Should iron, copper or brass pipe be used for the plumbing system?"
What does this tell us? That even when you have a lot of money, building a house is a hassle? In the end, all this chronicle offers are a few juicy anecdotes about the extravagances of the rich—and even those are buried in a great deal of tedious detail.
Adelle Waldman is a writer living in Brooklyn.