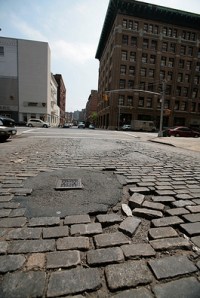 Here's an interesting marriage of technology with mundane consituent service:
A Flickr page dedicated to the kind of complaints people report to the city's 311 hotline.
It was started by a member named Ingrid, and here are the rules she has laid out:
1) The title of your photo should describe the problem: "Broken park bench," for example.
2) All photos need captions. Captions should begin with a location, either an address or an intersection.
3) Include only ONE photo of the problem pothole, or whatever
4) Be sure to call 311 to report the condition as well.
The idea is similar to what Public Advocate candidate Andrew Rasiej had called for and seems easy enough.
So far, photos range from things like "sidewalk damage – 540 W 37th" to "monster poison ivy on footpath leading to Fort Washington Park," to "street tree with rope in it."