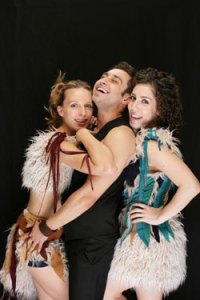 Two things are necessary when visiting the New York International Fringe Festival: First, you have to find it; then you have to decide which of the 200 shows you want to see.
Let me help.
The festival takes place in various small theaters and incidental spaces in the East and West Village and the Lower East Side—but, alas, you could easily patrol the streets and not be aware that a festival is going on at all. Bunting would be nice, even a sign or two: "THIS WAY TO SEE THE SHOW!!"
Don't be discouraged: The festival's semi-secret nature is part of its fringe charm, promoting a personal sense of adventure and honing map-reading skills.
Two hundred shows is nothing: Edinburgh's venerable Fringe Festival (where Tom Stoppard and Rosencrantz and Guildenstern Are Dead were discovered in 1966) boasts a choice of some 2,000 events. The 10-year-old N.Y.C. festival (where Urinetown was discovered in 1997) is a summer breeze, albeit with peculiar cloud formations.
"One man thinks he's found the cure," reads the exuberant ad for one of the shows, "another wants to steal it, and a third needs it to save the life of the woman he loves … Cancer! the musical." How about Sodomy & Pedicures—"one woman's filthy journey"? Frisky Nuns! The Life and Times of Martin Luther (Reformed)? Or a dark comedy advertising "castration never tasted so good"?
There's something for everyone. It's usually best to follow your hunch. Fringe playwrights and performers are typically young and unknown, and anything can happen. One year, I was the only person in the audience for a one-woman show. I was waiting a little uncomfortably for it to begin, when the actress came out and said apologetically, "I'd perform it for you if it were a tragedy. But, you see, it's meant to be a comedy."
Laugh and the world laughs with you, cry and you cry alone. Feeling for her, I wished her the best and just when I was at the exit door, she called after me, "I'm not missing my big opportunity, am I?"
I TRIED POTLUCK RECENTLY, choosing five shows to see on a single day. Here's what happened:
2:30 p.m. At the Village Theatre on Bleecker Street I came across a bizarre new play about Leon Theremin, the Russian genius who invented the world's first electronic musical instrument. (A theremin is played without any direct contact by the musician.)
A notice on the theater door read forlornly: "Please form a line and be nice to each other."
When someone else eventually joined me on line in the muggy heat, we were extremely nice to each other. He turned out to be a middle-aged schoolteacher of astronomy and earth science who loved the festival. "It's different," he explained enthusiastically, "and it's only $15 a ticket." It became clear as we chatted that this pleasant man was a theater enthusiast who never saw a show he didn't like. His gentle tolerance began to shame me.
Some 25 people ultimately turned up for Theremin, created by the Blue Cake Theatre Company. Its ambitious interpretation of artistic genius and betrayal, political freedom and oppression has undeniable flaws. My new friend, the schoolteacher, enjoyed every minute of it. Like me, he hadn't known the story of Leon Theremin—"the Russian Edison"—or that a straitjacketed Brian Wilson of the Beach Boys became a possessed disciple. Unfortunately, a theremin sounds like a prolonged eerie moan even when it's playing "Beautiful Dreamers." The schoolteacher demurred, rather liking it. I'm glad to say that the gifted young actress Elizabeth Palin, who plays the maestro's first love, Clara Rockmore, is a bright prospect.
5:15 pm. The Winter's Tale Project, also at the Village Theatre, could be the hit musical of the festival. Shakespeare's difficult late romance and wintry fable has frequently defeated the best, and yet for the first hour this smashing production could do no wrong in my astonished eyes. Its director-book writer, Bridget Ryan, and her composer-lyricist, Chris Wynters, are more than smart: Their outstanding work is true to the wounded heart of Shakespeare's fantastic parable of obsessive sexual jealousy and insane betrayal, young love and transforming redemption. The immensely talented, 20-strong ensemble bring it all to spontaneous life in a chic black-and-white space with just two chairs and a door frame.
It's a hot, chancy first half ("Too hot, too hot!/ To mingle friendship far, is mingling bloods"), and it succeeds wonderfully. If Mr. Wynters' driving score has been influenced on occasion by Duncan Sheik's music for Spring Awakening—why not? "For Innocence Sake" alone, a lovely ballad for Hermione and company, singles him out as a confident new voice in musical theater.