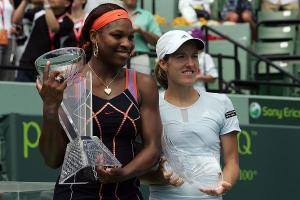 Are the Williams sisters still a major mental block for the number one player in the world?
During a press briefing on Saturday, Justine Henin explained her shocking semifinal loss at Wimbledon to the delightfully out-of-shape Marian Bartoli by saying that she may have focused too much on Serena and Venus Williams.
(She beat Serena in the Wimbledon quarters in a straining three-set match and red-hot Venus awaited her in the finals.)
"You know, it was day that [Bartoli] was just better than me emotionally," she said. "The match against Serena has been very, very tough in Wimbledon. That took me a lot of energy – maybe the prospective of playing Venus in the final."
Henin began her US Open run today against qualifier Julia Goerges at Arthur Ashe Stadium.
She's scheduled to meet Serena in the quarters and Venus in the semis.