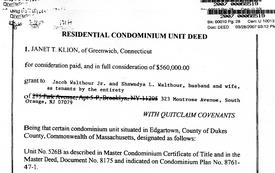 Here's more on a small development in a heated judicial race in Brooklyn.
In a contest pitting Shawndya Simpson and the Brooklyn Democratic machine against Diana Johnson and the default insurgents — it's a small, down-ballot race in which the advantage usually goes to the better-organized candidate — Johnson's supporters think they've got something that can upset the organization's plans: Simpson, they claim, doesn't live in Brooklyn.
One interested reader sent along this deed for a property in Greenwich, CT that Simpson bought back in March. On the document, which is notarized, Simpson crossed out her Brooklyn address and replaced it with one in New Jersey.
Simpson's campaign office did not return calls for comment.
The full document is attached here [link fixed].