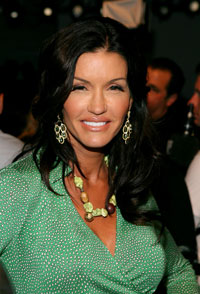 On the afternoon of Thursday, Aug. 9, students in the Spanish Beginners 2 class at the Beverly Hills Lingual Institute on North Canon Drive were joined by a very special guest: vintage supermodel-cum-reality TV train wreck Janice Dickinson.
"She kept asking, 'How do you say, "I haven't had sex in six months,"'" recalled pupil Daniel Payne, a former New York resident and owner of Clarendon, an urban wear clothing line. Mr. Payne added that Ms. Dickinson was eager to add "penis" and "vagina" to her Spanish vocabulary, and had bright purple feet. "I think she has circulatory problems," he said concernedly.
The surgically altered mannequin was accompanied by a camera crew filming material for the next season of her Oxygen reality show, The Janice Dickinson Modeling Agency. Spoiler alert! Ms. Dickinson is apparently planning to set up an agency in Mexico this season.
"How do you say Botox in Spanish?" asked the halibut-lipped brunette, according to Mr. Payne.
"Botox," responded the teacher.
Later, Ms. Dickinson, 52, who was having some trouble retaining the day's lesson, accused the other students of being "smart" and "Ivy Leaguers." The happily wed Mr. Payne also claimed that "she started flirting with me and asked if I was married. I said that I didn't take her seriously."
Ms. Dickinson's rep did not return a call for comment.