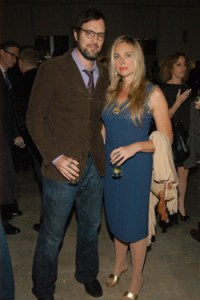 By definition when an artist dies, he or she has given up the power to create. Not only their work, of course, but also the story of their lives. Since their suicides last month, the sadly foreshortened life stories of Jeremy Blake and Theresa Duncan have passed beyond their control and are currently passing through the distorted mirrors of projection, grief, anger and a sort of perverse, bicoastal peer review by New Yorkers and Los Angelenos who are stumped as to why a talented and beautiful young artist couple who had been together for 12 years took their own lives, despite seeming to have the grail of professional and personal success firmly in hand.
The story has been briefly reported on this coast (The New York Times) and more thoroughly (and luridly) by the Los Angeles Times and L.A. Weekly, and obsessively discussed in the blogosphere. On July 10, Theresa Duncan, a 40-year-old blogger and onetime computer game designer, was found dead by her boyfriend, artist Jeremy Blake, 35, in the apartment they shared in the converted rectory at St.-Mark's-Church-in-the-Bowery in the East Village. She reportedly killed herself with a cocktail of bourbon and Tylenol PM. A week later, on July 17, a tall man was spotted stripping naked and walking into the surf off Rockaway Beach. On July 22, Jeremy Blake's body was found 30 miles away by a fisherman off the coast of Sea Girt, N.J.
Last Friday, a memorial service was held for Mr. Blake at the Garden of Remembrance at Gan Zikaron Memorial Park, a Jewish cemetery in Clarksburg, M.D., near his mother and stepfather's home (his biological father died when Jeremy was 17). Mr. Blake's mother and stepfather jointly read a statement by David Ross, a former director at the Whitney Museum. Friends and family repaired to Mr. Blake's parents' house nearby for a reception.
The mourners were in shock—Mr. Blake's work had appeared in three Whitney Biennials, on a Beck album cover and in the Paul Thomas Anderson film Punch-Drunk Love. This fall, he was to have a solo show at the Corcoran Gallery in Washington, D.C. Eulogists included former Corcoran curator Jonathan Binstock, now an art adviser for Citigroup, who spent the past year working with Mr. Blake on the show (which will continue as planned, Mr. Binstock told The Observer.)
"There was a lot of love for Jeremy and Theresa both," said Mr. Binstock. "The service was very sweet, very sad. The family really wanted somebody to talk about the art, so I talked about what being an artist meant for Jeremy. It's extremely rare that somebody so young leaves such an extraordinary legacy. He was a great artist in a variety of media contexts—from Hollywood to the gaming industry to music videos. He was clear in what he wanted, gracious in the way he asked for it, gracious in the way he appreciated everything that anyone did on his behalf. Artists are idiosyncratic individuals. Jeremy was the rare artist who made life easy for those people around him."
Suicides are given less of a grace period than those who die young in accidents or from illness.
In a lengthy and widely linked L.A. Times report last week, the couple was portrayed as deeply paranoid near the end of their lives, engulfed in conspiracy theories involving Scientologists, among others. The threat was sufficiently real to them that they prepared a 27-page "chronology" of their perceived harassment in preparation for a lawsuit. In an L.A. Weekly story, Kate Coe, who said that she knew Ms. Duncan, portrayed Ms. Duncan as grandiose and deluded, clearly the darker figure of the couple.
Whatever truths and half-truths continue to emerge, it's clear that Mr. Blake walked away from a career suffused with promise. "Jeremy was very sweet, incredibly stylish, very generous," said Katie Brennan, who mounted an exhibition of his work at her L.A. gallery. "And paranoid. Everybody saw it. I have dozens of e-mails that I've saved and didn't even read, because they would be so long and confusing and convoluted. He never accused me of anything directly, but you would kind of always hear that you were being accused of things secondhand. I think most people realized it was coming from a real place of paranoia. He didn't intend to harm anybody. If you took that away, he was a very smart, talented person."
"It seems like anyone who hung out with them in the past couple years knew that there was some element of [the paranoia] going on," said a friend of Mr. Blake's from the early 1990's who was at the funeral. "But those people were kind of freaked out and weren't talking about it and didn't really know what to do. It's hard for me to understand how Jeremy got this way. Now people just want to respect his family and not let the more recent events get exploited any more than they have."
"He was someone I enjoyed working with tremendously," said Benjamin Weil, who curated a solo show of Mr. Blake's work at San Francisco Museum of Modern Art in 2005. "He and Theresa were fueling each other creatively in a way that was very beautiful to watch. I was always impressed with the cleverness, wit and the humor with which they were handling life in general. They were incredibly graceful. They're difficult to dissociate. I worked with Jeremy, but getting to know him, I quickly realized that they had a symbiotic relationship, where things would bounce from one mind to the other."
Another speaker at the funeral was Lance Kinz, Blake's longtime gallerist at Kinz, Tillou + Feigen Gallery in Chelsea, who said several of the couple's friends had recently seen them out and about in New York. His impression, he said, was that they were present and engaged with their friends until the end. On July 3, as has been reported (including by Ms. Duncan on her blog, The Wit of the Staircase), the couple coordinated a fund-raising benefit for St. Mark's. And Ms. Duncan's blog hinted at a robust social life this summer: "Wit went to a party Wednesday night. And then another party. And then the party after that. Wit is finished with parties." She also referred to vacations with "Mr. Wit" (Mr. Blake) and late-night meetings of the "Los Angeles Lunar Society" at the Beatrice Inn, where she and Mr. Blake socialized on occasional Monday nights.
Ms. Duncan left behind a prodigious amount of material on her blog. Her observations could be entirely grounded: Last year she heralded the revamped Gramercy Park Hotel with a post titled simply, "Ugh." Or they could be wildly improbable, such as accusations she leveled at Anna Gaskell, a photographer and former girlfriend of Mr. Blake's, or her take on Saturday Night Live's Tina Fey and Amy Poehler, whom she speculated had been "enlisted to belittle and police other women from escaping 'their place.' Are they secretly on some conservative policy institute's payroll?"
Paranoid postings aside, the blog most often chronicled her relentless curiosity. She quoted Walter Benjamin and praised Charlotte Gainsbourg and would give only enough personal detail to leave the impression that she and Mr. Blake inhabited a strange, dark, fragrant other world, where Lunar Societies meet at midnight and one wakes up naked at dawn in a pink masquerade-ball mask.