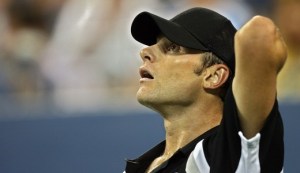 Andy Roddick held an entertaining birthday-edition press conference yesterday.
Two points of interest from it: (1) He had a message for Rafael Nadal, who complained that the hard-court season is too long, which he blamed for causing his tendinitis.
"You play seven months a year on clay if you want to. I'm not going to throw a pity party by any means."
(2) Reporters yesterday were quietly questioning Richard Gasquet's dedication to the game due to his withdraw because of a fever. Roddick said if he were sick, he'd play.
"If you're sick, I don't feel like that's going to get worse. I feel like that's a short-term thing. I'd probably go out there and give it a go."