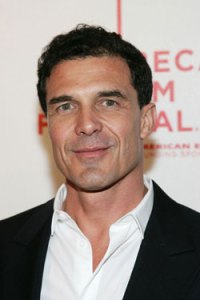 Handsome hotel developer André Balazs sure turned a few heads earlier this summer when he was spotted in the lobby of the embattled Chelsea Hotel glad-handing with the venue's controversial new management regime.
Almost instantly, the 50-year-old luxury lodging mogul became the subject of widespread speculation:
Was Mr. Balazs somehow involved in the contentious coup d'état that deposed beloved longtime Chelsea Hotel manager Stanley Bard?
And, if so, what sort of Balazsian schemes awaited the iconic brick inn?
Would the famously shabby chic "rest stop for rare individuals" soon be refashioned along the more luxurious lines of Mr. Balazs's hugely ballyhooed Hollywood retreat, the Chateau Marmont?
Imagine the bohemian enclave's irreverent artworks and mismatched furnishings tossed for wicker chairs, Persian rugs, and 24-hour shoeshine service!
How would the Chelsea's many resident artists afford the higher rents? Shining shoes?
"If he's a smart hotelier, he should change very little," warned one prototypical artsy hotel tenant during a recent conversation with The Observer. "The hotel is cooler than him. If he's a smart guy, he'll realize that or else become some kind of pariah."
An even smarter guy might just avoid altogether the messy, contentious situation—described by one eloquent resident as "the real estate equivalent of the military quagmire in Iraq," given its warring owners and unusual arrangements with its half-tenant, half-transient inhabitant sects.
With respect to the enduring conflict, the suave Mr. Balazs seems to be sticking to covert operations at present. (He politely declined comment for this story.)
A co-owner of the Chelsea Hotel emphatically denied his involvement. "André Balazs is not involved in any way with the Chelsea Hotel," hotel heiress Dr. Marlene Krauss told The Observer.
At least not yet.
The hotel's board of directors has, so far, publicly enlisted only two of Mr. Balazs' old associates, Richard Born and Ira Drukier, to oversee the day-to-day operations of the business. Mr. Balazs previously partnered with the two BD Hotels honchos in 1997 to open the high-end Mercer hotel in SoHo.
Despite the persistent rumors of a mini-Mercer reunion at the Chelsea, there is still no official agreement with Mr. Balazs, though sources close to the new management team have confirmed that the trio has engaged in discussions.
"He's a friend of BD Hotels," Dr. Krauss told The Observer in a prior interview. "I'm sure they wanted to hear what he might do [with the hotel]."
One of three voting members of the hotel's hotly divided board of directors—who, in the aftermath of Mr. Bard's controversial June ouster, has emerged as the spokesperson for the building's new order—Dr. Krauss lately has been brushing off all kinds of rumors about the beleaguered landmark on West 23rd Street.