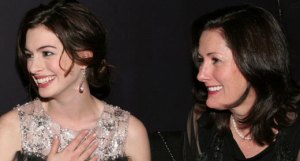 Ask Christopher "Kit" Culkin or David Olsen or Lynn Spears: Dimpled young stars or endearing little starlets sometimes live better than their elders.
Less than a week after the New York Post reported that their 25-year-old daughter Anne Hathaway had checked out a $22 million Greek Revival mansion on Gramercy Park South, a city deed was filed for parents Gerald and Kate: They've bought a $1.6 million apartment at the St. James Tower, a purplish far East Side condo.
That's about one-fourteenth the price their actress daughter and her real estate developer boyfriend would have to pay for the Gramercy mansion. That 1847 townhouse, which wily owner Michael Hirtenstein bought for just $14.5 this February, has original marble mantelpieces and mahogany doors, a garden, and a "museum quality stained glass oval skylight."
On the other hand, the condo apartment was built in 1982 (the year their daughter was born) and stretches a modest 1,250 square feet. But then again, the attorney father and his former-actress wife will have a nice two-bedroom spread on a high floor—with full East River views.
Their old address is listed in the Jersey suburb where Philip Roth's Goodbye, Columbus takes place. Ms. Hathaway, The New York Times reported, was a "chronic A student" at Millburn High School, and she acted at the town's playhouse. But by age 15 she'd "take a train, go into the city and smile for a Cheez Whiz commercial." Her debut film was Garry Marshall's The Princess Diaries, which happened to bring in more than $100 million—plus, Mr. Hathaway had a cameo. The director said the last actor he worked with from "such a solid family" was Ron Howard. Creepy.
Not everyone involved in this deal was so charming. When a reporter called a Fort Lauderdale apartment with a question for Edwin Goldstein, listed in city records as one of the apartment's sellers, the man who picked up the phone said, "I have a question for you—go to hell!"