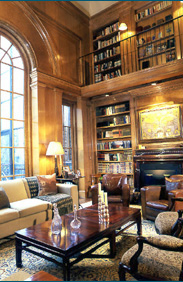 Back in 1981, when REO Speedwagon and Hall & Oates were kings, Charles Murphy was finishing up college here at Columbia. Then came M.I.T. and Harvard degrees, and he crossed the Atlantic to become a top-ranking banker for Morgan Stanley and Credit Suisse.
Now he's back uptown. According to a city record filed on Monday, Mr. Murphy is the buyer for Seagram heir (and local condo developer) Matthew Bronfman's 25-room town house at 7 East 67th Street. He paid $33 million, a record sale for a New York mansion smaller than 26 feet wide. According to the appraiser Jonathan Miller, no Manhattan house that size has ever closed for above $30 million.
Here's another flummoxing number: The Bronfman family reportedly paid only $3,000,000 for the house in 1994, when their seller was The Foundation for Depression & Manic Depression, Inc. Really.
"It was a complete gut," said Carey Maloney, who designed the house with his M(Group) partner Hermes Mallea. "Literally no element in this house is older than 10 years old"—except for the landmarked facade. "You rarely find a house in New York with such an important-looking entrance," said listing broker Sami Hassoumi of Brown Harris Stevens.
But the deal took time. According to The Observer, which previously pinned renovation costs at $19 million, Mr. Bronfman quietly put his house on the market for $27 million in 2002. (Earlier that year, tabloids chirped about his wife Lisa Belzberg's affair with President Bill Clinton.)
Then the price dipped to $24 million, rose to $30 million, and was most recently $36 million.
Now, Mr. Murphy has a place with eight bathrooms, seven levels and six fireplaces. Plus, there's a floating, elliptical staircase in the front and a glass-enclosed staircase in the back. "The Bronfmans didn't even use it," Mr. Hassoumi said about the latter. "Every person I showed the house to looked at it like a sculpture."
Then there's a double-height library with hand-polished wood, and a Palladian window overlooking a towering greenhouse. Bridgelike catwalks float through that greenhouse space, connecting the front and back of the house. (Then, of course, there's a roof garden overgrown with ivy and climbing roses.)
"You know," said Ms. Maloney, the designer, "it was a great run in that house. But, you know, times change."