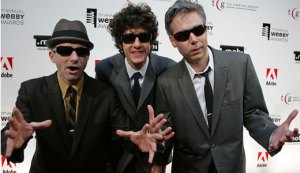 Fight for your right … to wear Prada?
"We're trying to break into a new kind of scene, actually," said Adam Horovitz, the Beastie better known as Ad-Rock, with a wink. At a Soho House round-table talk last week, clad in a full suit, skinny tie and sunglasses, Mr. Horovitz clarified the Boys' surprisingly dapper appearances at Central Park SummerStage on August 8 and the Hammerstein Ballroom in midtown on August 10. "We're thinking that the gala kind of scene would be for us."
The new look was inspired by the Beasties' penchant for getting glam to record their new instrumental record, The Mix-Up, which arrived earlier this summer. To support the album, they've set up elaborate, event-ish shows where they also request that fans dress to the nines. Consider yourselves warned: It's time to grow up.
In their (gasp!) 40's, the Beasties have managed to morph and change over the last quarter-century without for a second losing their cool. They've gone from rap to song, manic to mellow, bachelors to daddies, all the while staying true to New York even as it's become less, ahem, ill.
"It's pretty weird that there's a Starbucks on every corner," said MCA, otherwise known as the avuncular Adam Yauch.
"I grew up in this neighborhood right here, just down the street," chimed in Ad-Rock. "It's very strange what's happened."
"I mean, it's still New York, it's just," paused Mike D, "I don't know. It's like Boston."
But clearly with better style.