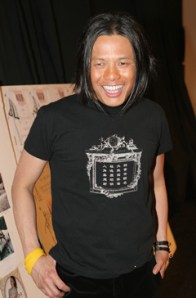 "I'm going crazy," said the skirt-wearing designer Zang Toi during an intimate dinner at his Upper East Side pad, fixing his gaze on several dishes in the kitchen sink. "Everything in my apartment—it's like I use something, I have to put it back; if I use a glass, I clean it and I put it away. I can't even look at this right now."
This was a barefooted affair, intended to raise awareness for Lance Armstrong's Livestrong Challenge charity bike race in October, in which Mr. Toi is competing for the second year. The host served his special chicken curry and sautéed shrimp with string beans. "I cook and I clean the pots as I go along," he said. But "tonight, there's so much going on." Deep calming breaths!
Before dinner, a few attendees poked gingerly around Mr. Toi's impeccable closet, which has a white side and a black side; any colored items are kept at the designer's office.
And during the feast Mr. Toi slipped back into his bedroom and moved a silver vase on his mantel an inch or so. "Yes," he said. "I hate the messy."