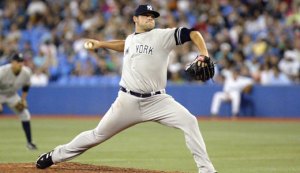 With a bullpen sorely in need of help, the Yankees promoted top pitching prospect Joba Chamberlain from the minors on August 7. To judge by the results so far, it's a brilliant move. It's also a risky one.
Yes, Chamberlain's debut has been the stuff of dreams. The 6-foot-2, 230-pound righthander pitched two scoreless innings in his debut on August 7 against Toronto, allowing just one hit, walking two and striking out two. Three days later, in a game against Cleveland on August 10, his line was the envy of any relief pitcher-two perfect innings with four strikeouts. And last night, he thrilled a Yankee Stadium crowd in his home debut, preserving a 6-5 lead with a perfect eighth, striking out two.
Chamberlain's fastball, which averages around 97 with movement, has been devastating, along with a wicked slider. He's a natural set-up man for Mariano Rivera.
The problem, in fact, may be that he's too effective. Or, to be more precise, that Joe Torre, with his already overworked bullpen, won't be able to resist piling too much on Chamberlain's shoulders too soon.
Make no mistake about it: at the age of 21, with his entire big league career ahead of him, Joba Chamberlain is one of the most valuable properties in baseball. A latecomer to pitching, he was converted at the University of Nebraska, and quickly took to it, striking out 232 over 208 innings.
The Yankees drafted him with the 42nd pick in the 2006 draft, and he quickly showed an ability to dominate professional hitters at each of three levels. The statistics he compiled in the minor leagues — 88 innings, 27 walks, 135 strikeouts, and a 2.45 ERA, mostly as a starter – were those of a men playing among boys.
As Joba dominated, the Yankees' need for his services became even more acute. When the trade deadline came and went July 31, not only had the team failed to pick up another arm for the beleaguered bullpen, they actually sent one away, as workhorse Scott Proctor was shipped to the Dodgers. With that, the calls from impatient fans for Chamberlain to be promoted became nearly as loud as the boos they reserved for the ineffective and disgruntled bullpen import Kyle Farnsworth. And after just two relief appearances at AAA, one on July 30 and the other on August 4, the Yankees complied.
The decisions to rush Chamberlain up through the system and switch him to the bullpen, so far, have been good for the club. But are they good for Chamberlain?
After all, he was shifted to relief work after only one start in AAA, and the Yankees publicly acknowledged at the time that he needed to demonstrate the ability to rebound quickly, pitch back-to-back outings and, essentially, grow into the strange role of a reliever. That work was never completed.
Torre has said that Chamberlain will not pitch on back-to-back days on any occasion, and that he will not pitch for two days anytime he works two innings. Still, Torre made a similar announcement about Mariano Rivera this spring, saying that Rivera would not be asked to get more than three outs, even for a save. Torre promptly brought him into the eighth inning of a game against Boston on April 20.