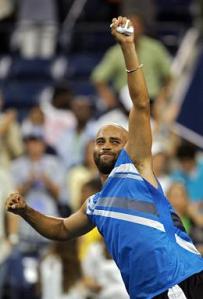 James Blake just met with the press. I'll have a full wrap in the morning, but here are a few quotes on winning his first-ever five set match and what this could mean for the rest of the tournament.
"So yeah, the monkey's off my back. It's a good feeling to know that I don't need to answer these questions all the time. I don't need to come in and lose a five-setter and say, Why can't you win a five setter? At least I know I can."
"I went into it feeling like I was going win this time. And next time it'll be good. Any time you have that kind of confidence when you've done it before it makes a big difference. Right now I'm riding high on the confidence of doing so well in Cincinnati and L.A. and New Haven."
"I feel like I'm playing great. Like I said earlier, the confidence that I have from winning so much this summer is something that can't be replaced. I'm riding high on that and you never know how far that can take me."