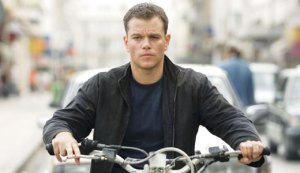 THE BOURNE ULTIMATUM
Running time 111 minutes
Directed by Paul Greengrass
Written by Tony Gilroy, Scott Z. Burns and George Nolfi
Starring Matt Damon, Joan Allen and Julia Stiles
Paul Greengrass's The Bourne Ultimatum, from a screenplay by Tony Gilroy, Scott Z. Burns and George Nolfi, based on a story by Mr. Gilroy and the novel by Robert Ludlum, emerges as that rarity of rarities, a summer blockbuster with grown-up intelligence and charm to go with its expertly executed thrills and chills. And that in itself is surprising, considering that this is the third of the Bourne series, the second directed by Mr. Greengrass. Even so, it is hard to see how there can be a fourth segment, though stranger things have happened in our market-driven motion picture industry. It may all depend on whether the 36-year-old Mr. Damon wants to keep leaping from rooftop to rooftop as he nears and passes 40. Besides, what more does the Bourne character have to prove now that he had shaken the C.I.A. down to its foundations with his publicized proof of its essential ruthlessness and brutality, very properly post-Iraq disillusioned in its orientation?
Also, why not end the Bourne cornucopia on a high note after the letdown of Mr. Greengrass's The Bourne Supremacy (2004), following Doug Liman's comparatively sparkling The Bourne Identity to open the series? Curiously, Mr. Damon, he of the sometimes comically blank expression, hit his histrionic high points with doppelgänger roles in Anthony Minghella's The Talented Mr. Ripley (1999), paired with Jude Law, and Martin Scorsese's The Departed (2006), matched with Leonardo DiCaprio. In both instances, he was the one with the more bland good looks. Yet in the shrewd management of his career, Mr. Damon is not nearly as dumb as he appears, and he has an Oscar to prove it, for co-writing with Ben Affleck the screenplay for Good Will Hunting (1997), in which Mr. Damon convincingly played a genius no less, albeit in the rough.
In The Bourne Ultimatum, he manages to be calmly heroic in his seeming insouciance as death stalks him from every vantage point, in a world saturated with total surveillance. The shifting locales span three continents. One cannot help admiring Jason Bourne for overcoming all the gadgets mobilized to annihilate him or anyone close to him. This while he is still mourning the agency-ordered death of the one great love of his life, played by the ineffable Franka Potente. Fortunately, Julia Stiles has blossomed out as simpatico C.I.A. operative Nicky Parsons to fill the vacuum in Bourne's sorrow-ravaged soul. Her heartfelt smile at the end of the film assures us that Jason Bourne has survived again against all odds and this time even against all appearances.
As it happens, Parsons is not the only woman in the C.I.A. on the side of Bourne in his never-ending flight from the agency's assassins. Joan Allen's Pam Landy, subordinate to agency head Ezra Kramer (Scott Glenn), and New York bureau chief Noah Vosen (David Strathairn), has always had her doubts that Bourne was guilty of the crimes for which he was being hunted by her male superiors, and her intervention becomes crucial in the final unraveling of the agency's conspiracy against Bourne. Another interesting character in the film is British gung-ho journalist Simon Ross (Paddy Considine) of The Guardian, who writes a story from unnamed sources about a C.I.A. agent named Jason Bourne, the first time Bourne's name has ever appeared in print. Bourne travels to London to find Ross and get him to reveal his sources. But London is already blanketed with C.I.A. surveillance, and both Bourne and Ross are targeted by the agency's assassins for termination with prejudice. Bourne escapes, but the terrified Ross is easily eliminated. So much for the free press.
Bourne follows a lead first to Madrid and then to Tangier, where an agency underling who could help him is blown up by an agency thug, who is then instructed by his agency superiors to dispose of both Bourne and Parsons. After another agency hireling is disposed of by Bourne in a particularly gruesome manner, the action shifts to New York, where the film's archvillains, Mr. Strathairn's Vosen and Albert Finney's Dr. Albert Hirsch, the man who created the agency assassin Jason Bourne for good patriotic reasons, confront their creation-turned-nemesis for what they hope will be the last time on a Manhattan rooftop overlooking the East River.
The theatrical release of The Bourne Ultimatum has run head-on into the cable television series The Company, directed by Mikael Salomon, from a teleplay by Ken Nolan, based on the novel by Robert Littell. The Company takes us back to the no-less-paranoid days of the Cold War, when we thought we knew who our enemies were and how powerful they might be. This teleplay is a deft mixture of fact and fiction, as opposed to the completely fictional Bourne tales.
Michael Keaton plays the overly complacent and overly credulous real-life C.I.A. chief James Jesus Angleton, and Tom Hollander plays Adrian Philby, the real-life British traitor at MI6 and also Angleton's trusted confidante. The rest is mostly fictional, including Alfred Molina's stormy, scene-stealing C.I.A. bureau chief, who angrily harangues Angleton for not confronting a suspected C.I.A. mole, who is betraying the agency by revealing the identities of C.I.A. operatives in the Soviet Union to the KGB. There are two ill-fated love stories and rampant misconceptions raging on both sides of the Iron Curtain. If you want all the old dirt on the C.I.A., The Company is must viewing Sunday nights at 8 p.m. on TNT.