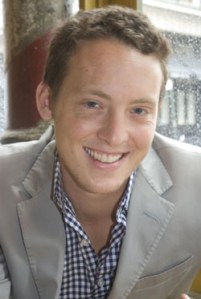 Ian Klaus is not as tall as he used to appear in pictures: cavorting around town on Chelsea Clinton's arm, the ebullient Rhodes Scholar with the unruly mop of curls canoodling with Ms. Clinton at the U.S. Open final, at movie premieres, and front row at the Givenchy fashion show. Sitting in the SoHo restaurant Savoy on Friday, Aug. 10, he looked younger than his 28 years, dressed in a khaki blazer and blue-checked Thomas Pink shirt, ordering a tomato salad and yucca fries (he's been a vegetarian, he explained, since age 12, when he "was on a host of moral crusades"). He was there to talk about Iraqi Kurdistan, the subject of his first book, Elvis Is Titanic, out in late August from Knopf.
Mr. Klaus seemed more subdued since last we sighted him, in September 2005, when the majority of the world's newspapers noted the breakup of his three-year relationship with Ms. Clinton. Perhaps he's been humbled by the grueling exercise of writing a book while simultaneously working towards a Ph.D. in history at Harvard, or maybe it's just his new, short-cropped haircut. Either way, he doesn't look like Bill Clinton at all, as some onlookers have suggested; he looks better. Ms. Clinton has long moved on to Marc Mezvinsky (whoever that is), but we'll give her belated credit for this one. Mr. Klaus said he and Ms. Clinton are still good friends; indeed, the dedication of his book reads, "To my mother and Chelsea, for understanding." It was while teaching English and American history for several months in Arbil, capital of Kurdistan, in 2005, that he began to write at night, "because I was alone in the hotel," a Sheraton. "It was a means of coping," he explained. "There was no telephone, no anything, so the only way I was telling people at home what was going on was by e-mail once in a while … my parents, my then-girlfriend." Right, her.
Mr. Klaus returned from Kurdistan early in the summer, only to ship off to Afghanistan to report a series of articles for the San Francisco Chronicle. He sent a rough book proposal—a chapter about teaching Hemingway—to Niall Ferguson, the bad-boy Scottish historian, Mr. Klaus's former professor at Oxford. "I didn't have an agent or anything like that," Mr. Klaus said, sipping a Diet Coke. "And then he sent it on to his agent, a guy named Andrew"—that would be Wylie, a.k.a. "the Jackal"—"who was phenomenal in taking care of me and brilliant in his own right." Mr. Wylie quickly hooked Mr. Klaus up with George Andreou at Knopf, all over e-mail and satellite phone. "I don't know, maybe it's all downhill from here!" Mr. Klaus said with a good-natured laugh.
And yet, one couldn't hate him. Elvis Is Titanic—a phrase uttered by one of his students comparing the king of rock 'n' roll to Leonardo "I'm the king of the world!" DiCaprio—is earnest, thorough and elegantly written. The author's knowledge of Kurdistan and the rest of Iraq (and the Western canon, for that matter) is prodigious. He speaks glowingly about the "accessible" historians he admires, such as Mr. Ferguson, now his thesis adviser at Harvard, whose glowing blurb appears above a rave from Tina Brown on the back of the book jacket, and whose ranks he hopes to join. "Insha'Allah, God willing!" said the author.
Ambushed in Arbil
Mr. Klaus grew up in Belvedere, Calif., a wealthy suburb of San Francisco. He graduated from Andover and Washington University in St. Louis, a celebrated soccer player, before matriculating at Oxford as a Rhodes Scholar, where he met and wooed the daughter of a president.
Upon completion of his fellowship, Mr. Klaus moved briefly with Ms. Clinton to New York, becoming her photogenic escort as she transitioned from sheltered student to sleek, pant-suited Manhattan socialite.
He traveled to Iraqi Kurdistan with the help of former U.S. diplomat Peter Galbraith, who crossed the border with the young scholar in an armed convoy from Turkey in January of 2005. "I didn't find that to be a profound experience—that sense of entering danger," said Mr. Klaus, quick to disparage his own enterprise compared to the larger sacrifices of American troops.
He tends to prefer the humble impersonal pronoun: "The Kurdish transparency is not what one would hope," or "[Culture] is really a form of American power, soft power … difficult to regulate … one wouldn't want to regulate it." Regarding his trepidation about impending book reviews: "I'm trying to check out. But one does have to learn. You would hope in The New York Times it doesn't ever get personal, you know?" Mr. Klaus is pragmatic about the possibility of a hatchet job: "People remember really unfavorable reviews," he said. "I think if you get absolutely clobbered, you could remember that someone at least wrote a very good bad review, as opposed to a petty bad review."
Littering his conversation with literary and historical references, suffused with genuine enthusiasm and rationality, Mr. Klaus makes it hard to dismiss him, to dislike him, and, occasionally, to follow him. "I'm phenomenally impressed that you've been able to talk about Kurdistan for so long!" he said gallantly when The Observer asked him, to no avail, about the reasons he broke up with Ms. Clinton.