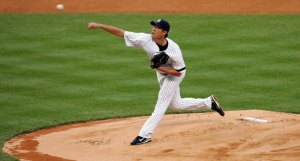 Chien-Ming Wang has won 35 games for the Yankees since the start of the 2006 season. He rebounded from his recent struggles with a strong effort Thursday, allowing just one hit in a win over the Red Sox.
But for a pitcher the Yankees are relying upon to be an ace for years to come, Wang has often gotten hit hard this season, allowing four runs or more in nearly a third of his starts (8 of 25). Last year, Wang allowed four earned runs or more in 11 of 33 starts.
What is the reason for Wang's frequent struggles, and what can the Yankees expect going forward?
The answer is a simple one: hitters put so many balls into play against Wang that results depend, to an unusual extent, upon luck.
In this, his third full season in the big leagues, Wang has managed to strike out 4.58 batters per nine innings. Among AL starters with at least 100 innings pitched, only six pitchers have a lower rate, a forgettable group ranging from Odalis Perez to Steve Trachsel.
So what has separated Wang from these bottom-feeders? For one thing, he doesn't walk many hitters—just 45 in 166 innings this year. But this fails to explain much of his success—among 52 pitchers with at least 100 IP this season, 15 have walked fewer hitters than Wang. Six of the 15 have struck out fewer hitters than Wang—and all but one of them has an ERA significantly higher than Wang.
So absent even a decent strikeout rate, and a bit better than average walk rate, what is the secret to Wang's success? Well, he throws a heavy sinker, leading to a large amount of ground balls. With 2.62 grounders for every fly ball, Wang ranks third among AL starters with at least 100 innings in that category. Those who believe Wang is destined for greatness point to his ability to "throw ground balls" as the secret to his longevity.
The problem with throwing ground balls, however, is that there is a nasty tendency for many of them to go between fielders and into the outfield. In his eight worst games this season, Wang has still managed 83 ground balls to just 37 fly balls, a better than 2-to-1 ratio. But his strikeout rate, already low, dips to 15 in these 46 innings—fewer than three per nine innings.
Even Chien-Ming Wang is dependent on the strikeout for success. And this is not surprising—no pitcher has managed any sustained level of success with a strikeout rate as low as Wang's career mark of 3.74 per nine innings.
Take a look at the stats—no matter how soft the tosses are, no matter how dastardly the slider—no pitcher has managed a sustained career of excellence striking out fewer than four and a half per nine innings. The far-from-overpowering Tom Glavine checks in at 5.33 per nine. Crafty lefty Jimmy Key came in at 5.33 per nine. Even the change-of-pace specialist John Tudor, whose change-up reputedly couldn't break glass, held a career strikeout mark of 4.94 per nine innings.
There is some reason for optimism about Wang's future. His 4.58 mark this season is a marked improvement over his career mark of 3.74, with August his best strikeout month yet (24 in 36 2/3 innings, an even six strikeouts per nine innings). For another, he did miss bats in the minor leagues, fanning 7 per nine innings in 478 2/3 minor league innings.
But at age 27, it is as likely as not that his strikeout bump this season is statistical fluctuation, still leaving him at the mercy of opponents' batting average on balls in play (BABIP). For pitchers with even better strikeout rates than Wang's, this can be the true killer, and is dependent a bit upon team defense (far from a Yankee strength) and largely on luck.