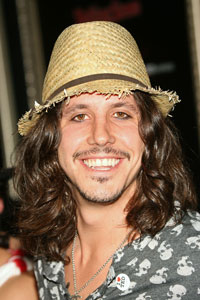 What's up with Mischa Barton's former lover Cisco Adler, star of the VH1 reality show The Rock Life, whose pendulous testicles were the subject of a mini-cyber-scandal last winter?
On the night of Monday, Aug. 21, Mr. Adler again let it all hang out, in an interview conducted primarily by lightning-fast text messages, his preferred method of communication.
"Most people in the world only know me as Mischa's ex-boyfriend," began the heartfelt screed, sent from a hotel room in Orlando, Florida, before a D.J.-ing gig at the Blue Martini. "And before that as Rod Stewart's daughter fiancé (which is false by the way) and before that as Lou Adler's son in the band with Roy Orbison's son, but under all the bullshit I'm just like everyone else searching for my own personal legend.
"I was born with music in my blood and that's how I define myself no matter what anybody says," Mr. Adler continued. "I have no problem being called second generation because my father is my hero in life and music and business. But this show is about none of that … in fact my father is not in it at all nor is Mischa … In fact I made a point to never even say her name. This show is about the world's most famous unknown band and the highs and lows we face everyday as we try to save rock 'n' roll. It also touched on me as a producer having just had a hit with Mickey Avalon and my new artist [sic] Shwayze.
"I just want people to shut up and listen because I actually think if they try and do that they will like what they hear."
But will the show get picked up?
"As far as a second season goes that is up to the TV gods," Mr. Adler continued. "I'm down if they are. But we're working on a show for Shwayze; his record comes out in January and I produced the whole thing and sing on a lot of it."
He went on to share that he "just sang three songs with Lil Jon" and is currently working with Chance and Real of the band The Stallionaires. (They're big on the Internet.)
"People may think I'm out partying every night and they may be right," tapped out Mr. Adler, "but in the hours in between I'm writing, singing, producing and playing music."
What about the whispers that he is back with Paris Hilton? "Paris and I dated 10 years ago. I never returned to a well I've already mined," he wrote. "That's the Hollywood rumor mill working overtime. But hey … any press is good press."