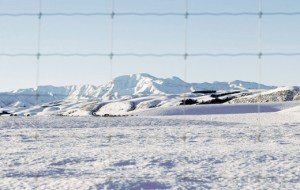 CONSUMPTION
By Kevin Patterson
Nan A. Talese/Doubleday, 381 pages, $25
The Canadian writer and doctor Kevin Patterson has written nonfiction about a Pacific sea voyage, The Water in Between (2000), that was selected as a notable book by The New York Times; his story collection, Country of Cold (2003), won prizes in Canada. Consumption, his first novel, was exalted in the Canadian press when it was published there last year. "Reminiscent of Anton Chekhov," declared The Vancouver Sun.
It's not reminiscent of any Chekhov I've ever read, except in being set in a cold climate, in this case the Canadian Arctic. Praise like The Sun's raises the reader's cultural expectations. In fact, the novel is more like sympathetic soap opera, with alternating narratives and melodramatic births, deaths, crisscrossed loves, anger and disappearances, eventually speeding up into a murder mystery.
All this is fueled by cross-cultural unease in a Hudson Bay community, personified by Victoria, a consumptive Inuit girl who is sent away to a tuberculosis hospital at age 10 in 1962. When Victoria returns home as a well-schooled teenager, she longs for newspapers and books and someone to discuss them with, cultivating friendships with Balthazar, the settlement's doctor from New York; Bernard, the French priest; and the non-Inuit men at the Hudson's Bay Company, one of whom, named Robertson, she marries.
Even the Inuit are westernized to a more or less post-technological way of life, but no one actually lives very well in this marginal town of foundationless plywood buildings and flown-in processed foods. Mr. Patterson has not written the obvious West-bashing book in which the morally pure natives are simply consumed by the alien culture. They like to consume it, too, and one of the point-of-view characters, Victoria's brother, is by that token saved from an ignominious, penurious existence as an inept hunter when he gets a job as a bookkeeper for an incoming diamond-mine company. The novel, however, gets its biggest lift when Robertson, at this point working for the mine company owners, is found with his throat slit, and Victoria's dog-sledding son and an Inuit man whom Victoria had taken as a lover become suspects—along with anyone who has opposed the mine.
There are problems with Victoria as a central character. She's as opaque to us—and possibly to Mr. Patterson—as she is to all the men who adore her. Crazily passionate as a mother, for instance (a plot point), she's also maternally apathetic and unobservant; she's similar as a lover. You feel you're supposed to impute her actions to the cultural break she endured, but they seem more particular, which is interesting but impossible to parse, so in the end she's just incoherent.
Mr. Patterson's best creations are his least ambitious imaginatively: the priest and the doctor, older men central to this community but also outside it, and best friends. Chunks of text are devoted to the doctor's often fascinating, meandering history of medicine and his practice (the digressions include a revelatory overview of how most people have died over the centuries). Less interesting is his illicit narcotics use and a subplot involving his teenage niece in New Jersey and her interlude with bad companions, which comes closer than anything else in this engaging, serviceably written story to an easy cliché about postindustrial culture and the superiority of aboriginal ways.
Anna Shapiro is the author of a collection of essays and three novels. Her most recent, Living on Air (Soho), came out in paperback in May.