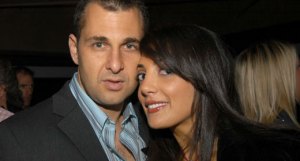 If you were a child of high-flying socialite songwriter Denise Rich, you'd want to live in your mother's building, too. Daniella and Richard Kilstock, Ms. Rich's daughter and son-in-law, have paid $3.9 million for a two-bedroom co-op at 785 Fifth Avenue—where Ms. Rich lives in a big-party penthouse.
The socialite, whose boutique label is called 785 Records + Publishing, just paid more than a quarter of that two-bedroom sum on her own in-penthouse recording studio. A report this year called the $1.065 million setup the priciest private music space in New York.
The family has done more decadent things: Ms. Rich helped win an 11th-hour pardon from President Clinton for her ex-husband Marc, a tax fugitive living in Switzerland. The president was heartily accused of being bought by Ms. Rich's longtime donations. After the release of the Starr Report, for example, Ms. Rich threw a "morale-boosting" $4 million Democratic fund-raiser with Mr. Clinton at 785 Fifth.
Could the Kilstock couple entertain, too? A listing with Prudential Douglas Elliman broker Paulette Mondschein says, "The gracious Formal Dining Room is wonderful for large-scale entertaining or intimate gatherings."
"A sit-down dinner, you could fit 20-some-odd people," the broker said. "If you had a big cocktail party, you could fit comfortably 50, 60 people walking around." But you'd have to put up the Murphy bed in the maid/guest room.
The co-op sellers are Ruth and Martin Krall, the former chief legal officer of the Daily News and U.S. News and World Report.
Upstairs, Ms. Rich's 28-room penthouse reportedly has a staff of 20 (personal healer and yoga guru included), something named a "wardrobe calibrator" and what the writer Lloyd Grove once called enough furniture to fund a small country.
Her daughter, an actress and comedienne, has an apartment that comes with a mirrored entry gallery. "It's not really my style—but it worked for that apartment," Ms. Mondschein said.
City records show that Mr. Rich, indicted in the early 80's on charges of tax fraud (and illicit oil trading with Iran!), doesn't have a place in the building. Mikhail Gorbachev was at the Rich penthouse when Senator Clinton spent her 25th wedding anniversary there, though the ladies' eminent hubbies were not.