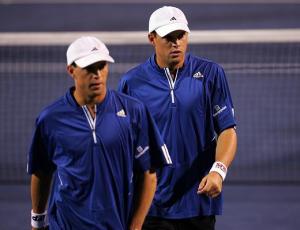 Today, when workers at Three World Financial in the Wall Street district took their lunch breaks, their view of the marina was occluded by a makeshift tennis court set up in the middle of the building's concrete courtyard. The sound of balls being hit and sneakers squeaking were joined by the voice on an enthusiastic announcer on a loud speaker.
The Association of Tennis Professionals hosted a doubles tournament where analysts and janitors alike could play with their favorite professional doubles player. The top six doubles teams in the world – including the No. 1 ranked brother team of Mike and Bob Bryan – came to compete with fans, in an effort to draw more attention to the excitement of doubles. Particpants were also asked give a suggested donation of 10 dollars to St. Jude's Children's Research Hospital.
"We're trying to build excitement for doubles and educate people one the excitement that's inherent in the game of doubles," said ATP executive Chris O'Neil. "So we have this program called Doubles Rule," he said, and gestured at some of the many posters around the courtyard baring the catchy logo.
Mr. O'Neil explained that as part of this effort to build interest the ATP recently changed the rules of doubles tennis in order to speed up the game, making it more "exciting" for fans and less of a time commitment for some of the big-name singles stars. The new rules include replacing deciding third sets with a tie-break and eliminating ad-scoring on deuce games.
"Interestingly enough the game of doubles is played by so many people – you can go to any tennis club on the weekend and most people out there are playing doubles, not singles," said Mr. O'Neil. "So we're just trying to get the word out there that um it's just as exciting at the pro level as it is when you play it at the club."
The marketing scheme seemed to have worked like a charm on at least one analyst walking off court after battling with the number 11 ranked duo of Paul Hanley and Kevin Ullyett. Chris Subramaniam, a 34-year-old analyst at Merrill Lynch said: "This is awesome. I love this place. Right by the water," said the sweating, India-born analyst.
"Doubles is great because you're not conditioned as much as for singles, so it's great for recreation," he said. "And you know this like a lot promoting doubles, because a lot of pros they don't play doubles, they like to play singles – so this is a good way get more players to start playing doubles."