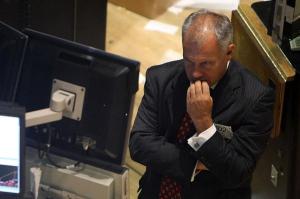 The Federal Reserve moved this morning to chop a half a percentage point off its discount rates, fearing that the credit crisis could destabilize the American–and the global–economy.
The move was characterized as a surprise though some bankers probably saw it coming last night, after Countrywide Financial Corp., the largest mortgage banker in the company, announced it would have to borrow more than $11 billion to stay in business.
The event underscored the widening credit crisis and sent global markets into a tailspin.
AP reports:
The decision means that the discount rate, the interest rate that the Fed charges to make direct loans to banks will be lowered to 5.75 percent, down from 6.25 percent.
The Fed did not change its target for the more important federal funds rate, which has remained at 5.25 percent for more than a year.
However, it has been infusing billions of dollars in money into the banking system over the past week to keep that rate from rising above the target level.
What does that mean this morning?
In premarket trading, U.S. stock futures reversed previous declines after the Fed's announcement. Many economists believe if the financial market crisis worsens the Fed will soon move to cut the federal funds rate as well.
– Tom McGeveran