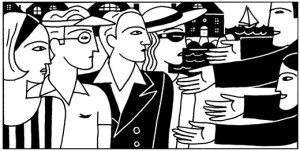 For the past several summers, former United States President Bill Clinton and current U.S. presidential candidate Hillary Rodham Clinton have made a salty pilgrimage to the Hamptons, where they speak to their supporters, breathe the same air as they do, get their picture taken with them, maybe eat banana pancakes with them and depart with fat happy sacks of cash.
Not everyone out there is thrilled.
"I don't know if it's bad for the country, but as far as I concerned, it's not a good thing," said John McEnroe Sr. The father of the tennis champion was wearing a sharp white jacket at a benefit under a tent for Southampton Hospital last Saturday, which was attended by an older, silver-haired, moneyed crowd. While the Clintons were not at the party, they were indeed somewhere on the East End of Long Island and their presence was being felt.
"I'm just not a fan of Hillary and I'm not going to become one," said Mr. McEnroe.
Does he think Mr. Clinton has been faithful?
"Oh, God no," said his wife, Kay.
"Absolutely not," agreed Mr. McEnroe, but added that another sex scandal wouldn't necessarily hurt the country. "We got through the other one pretty well. And I think we'd get through the next one. But we know he's had some situations; we know some people who live up where they live. I'm not going into the names. But I have no question that he's had another dalliance or two."
"We've had a house out here for seven years," Mr. McEnroe continued. "They can come here anytime they want and raise as much money as they possibly can. I don't blame them; I would do it, too. There's more money out here than there is almost anywhere else. Why wouldn't they come and get the money?"
So what's wrong with the Clintons?
"They're too liberal as far as I'm concerned, and they're Democrats," he said. "Other than that, there's nothing wrong with them. It's very difficult to explain, I just find them almost … offensive."
The night before at McKendry's Pub in Amagansett, Wolf Reiter was expressing a similar sentiment. "If Hillary Clinton is elected, I will leave the country," he said.
"I'm sort of jesting," continued Mr. Reiter, owner of the Old Stone Market and a Hamptons resident since 1968. He said he was pro-choice, wants no capital gains tax, and that there wasn't anything wrong with the Clintons raising dough from rich people. He said he had some questions about Mrs. Clinton, however.
"She is a typical hypocrite, because she's against charter schools, and she sent her kid to private school," he said. "They don't care about poor kids and ghetto kids getting an education. All these rich liberals out here are such hypocrites: All of a sudden they come out here, they're entitled, they complain about everything, about their neighbors building a tennis court or swimming pool. They don't want Mexicans living next to them or going to the schools. But who's going to wash their dishes and cook their food? "
Would Mr. Reiter feel safe with Mrs. Clinton as commander in chief?
"She'd be good on foreign policy. She'd be such a bitch that other countries would respect us."
Did he think the Clintons still have sex?
"Only if he's tied down."
Did he think Bill is being faithful?
"Ha-ha-ha-ha-ha-ha-ha-ha-ha-ha-ha-ha-ha-ha-ha! Oh, come on! Did you hear what he asked me?"
He repeated the question and Greg the bartender roared, too.