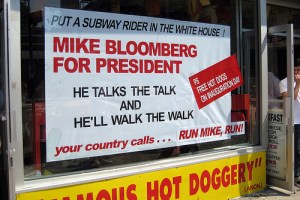 Organizers for the Dominican Day parade on Sunday consider one of Michael Bloomberg's commissioners "persona non-grata," according to a front page story in El Diaro.
Mark Rose carries the 'Save Darren Dopp' message, and writes that Spitzer "needs to apologize to Darren Dopp, and mean it. Dopp is suffering for Spitzer's sins. The Flack is not that expendable, and loyalty is not that cheap."
John Desio finds an unusual essay by Lenora Fulani's mentor Fred Newman.
Fulani, now a candidate for office in 2009, joins a list that includes Alfonso Quiroz, Francisco Moya, Yonel Letellier, Robert Hornak and Elizabeth Crowley.
The field of candidates for one City Council seat in Brooklyn is crowded.
Liz follows the surrogate's race in Brooklyn.
Maureen O'Connell has enough money in the bank to keep her options open for 2008 and 2009.
Harry Siegel thinks Michael Bloomberg needs to get tougher on the MTA and Con Ed.
Steve Kornacki transposes timelines to illustrate the politics of Mitt Romney's evolution on abortion.
Here's a quick wrap-up of last night's LGBT debate with the Democratic presidential candidates.
Hillary Clinton and George Bush's "recipes for political success share unusual overlap," says Liz Wilner.
Ben wades into the debate about whether repealing the Defense of Marriage Act would help spread same sex marriage laws in other states.
Advocate magazine wants you to vote for the greatest LGBT heroes.
And pictured above is a suggested slogan for Michael Bloomberg if he runs for president.