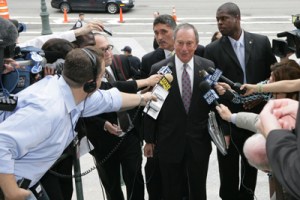 Rudy Giuliani's daughter supports Barack Obama.
Eliot Spitzer blogs on Daily Kos.
Electing Democrats to the state Senate could undermine reform, according to NYCO's blog.
John Gapper of the Financial Times thinks Eliot Spitzer is a better prosecutor than politician.
In the comments section, silentsheela fears Joe Bruno could win seats because of the Spitzer mess.
Pat Barientos responds to possible fare hikes by creating some anti-MTA paraphernalia.
Ed Koch wants Ray Kelly to run for mayor.
Liz notes the Council is moving faster against Gallagher than it did against Alan Jennings.
Barack Obama and John Edwards are attacking Hillary for taking money from lobbyists.
But she's still leading in the polls.
A lucky fan grapples with what to do with A-Rod's home run ball.
And pictured above is Bloomberg enjoying his day as a juror.